New Treasures: Pathfinder Tales: Through The Gate in the Sea by Howard Andrew Jones
New Treasures: Pathfinder Tales: Through The Gate in the Sea by Howard Andrew Jones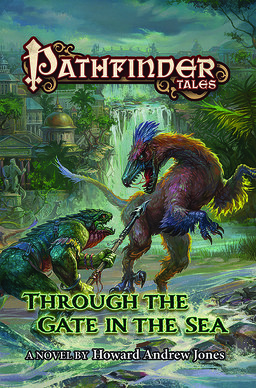 Howard Andrew Jones' fourth Pathfinder Tales novel, Through the Gate in the Sea, will be released in trade paperback by Tor Books next week. I made the long journey to his wind-swept writing tower to get the skinny for Black Gate readers. Here's what he told me, in tiny script written on yak hide, lowered down on a long rope.
I love the lizardman. Everyone's favorite lizardman Jekka is a point-of-view character this time. And there's a pirate captain, Ensara. He's not as bad as he thinks he is, but he's not as good as you'd like him to be. He gets caught in the middle of things, and he has to choose between helping Mirian and Jekka, and staying with his crew. He's down on his luck, and gets hired by a sorceress to hunt down Mirian and get these magical artifacts. I really enjoyed writing Ensara's chapters.

It's got a little bit of a hard boiled tone. While I was writing it, I was reading a lot of Chandler and Ricard Stark and Wade Miller. It's got the usual journeying through weird places. If I'm reading a fantasy novel, give me interesting people in interesting places! There's a chance to find an lost city through a magical portal in the middle of the ocean, and if they do, Jekka and his people will have a place to live.

But the devil-worshiping empire of Cheliax hasn't forgotten its defeat at Mirian's hands. On the other side of the portal are all these powerful artifacts. And an ancient, undead child-king wants the one that's kept the lost lizardfolk city safe for centuries.
Whatever, man. You had me at Lizardman POV character. Through The Gate in the Sea will be published by Tor Books on February 21, 2017. It is 352 pages, priced at $14.99 in trade paperback and $9.99 for the digital edition.