Launched! The Future Chronicles
Launched! The Future Chronicles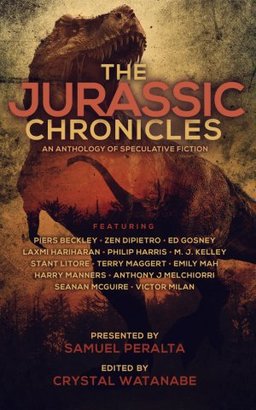 The Jurassic Chronicles is live, and $0.99 for a limited time! This is the latest installment in Samuel Peralta's Future Chronicles anthology series, and was edited by Crystal Watanabe. Hugh Howey states: "The best place to discover new SF authors, I think, is any of the anthologies coming from Samuel Peralta." Don't just take his word for it, though. Check out the authors and stories included in this one:
"Fatal Mutation" (Anthony J Melchiorri)
A Baltimore beat cop is called to check out screams coming from a run-down laboratory. But when she answers the seemingly routine call, she finds herself embroiled in a deadly race to solve a terrifying mystery compounded by two hundred million years of evolution.
"Noble Savage" (Terry Maggert)
Other worlds are possible through the massive engine of The Point project, but where it leads will reveal that humanity is the alpha predator only as long as it remains on Earth. With the promise of unlimited power, one woman will make the decision to match wits with beings who are not our equal. They're better.
"An Implant and a Hard Place" (Zen DiPietro)
To achieve her dream of becoming a cyberneticist, Brak had to fight everything it means to be Briveen. Now, she has to wrestle with her morals. Can she disregard them in order to help other people?

"Szcar's Trial" (Harry Manners)
Another hunt, ruined. Szcar faces exile from her pack. Without them, she faces a slow death in the desert, if hungry jaws don't find her first. But a strange flying orb has appeared from across the sands, and with it comes Szcar's last chance to win her pack's respect.
"Glitch Mitchell and the Island of Terror" (Philip Harris)
A routine flight turns to terror when Dwayne "Glitch" Mitchell and his friends crash land on an island filled with deadly creatures from Earth's distant past. But is it just a land that time forgot, or is there something more sinister at work?
"The Screaming of the Tyrannosaur" (Stant Litore)
The Hunger Games meets The Lost World. In the far future, young athletes compete with tyrannosaurs. In space.
"Ugly" (Laxmi Hariharan)
When Zoya inherits a piece from the asteroid that ended the Jurassic Age, she also unearths a secret that will change the destiny of Earth forever.
"Cryptoscience" (Emily Mah)
Daryl McPhie was once a reputable biologist, but he's frittered his credibility away, investigating cryptozoology. When a known snake oil salesman approaches him with a creature that just might be real, it should be the happiest day of his life. And yet, redemption doesn't come easily.
"Victor Mula's Earth Dream" (M. J. Kelley)
Long after Earth's demise, select plants, animals, and genetic records are all that remain of the mythical home world. Collecting these remnants, Victor Mula breaks deals and then disappears. When Flint loses his crew and starship working for Mula, he vows to find him, discover his secret, and exact revenge.
"The Thundering Grind of Jurassic Gears" (Ed Gosney)
Fred Wichman waited 14 years for the most realistic, animatronic dinosaurs ever built to come back to his local zoo. It was also 14 years ago that Fred's psionic powers kicked in. And he's been practicing ever since, becoming, in his mind, a great artist. It was supposed to be a good day. A nice time to spend with his mother. But when Fred's nemesis from school shows up, the day turns out better than he could have imagined.
"A Spear for Allosaur" (Victor Milán)
Peasants of Nuevaropa have begun reporting attacks from what the Book of True Names called an Allosaurus fragilis. Karyl Vladevich Bogomirskiy — scion of a family of dinosaur-slayers — is asked to deal with the monster, and his worst nightmare has just begun.
"Monsters" (Piers Beckley)
In the near future, technology has made it possible to re-engineer the human genome and alter the body you wear by splicing in the DNA of other creatures. Some people choose to become cats or foxes. And some people choose to become monsters.
"Please Accept My Most Profound Apologies for What is About to Happen (But You Started It)" (Seanan McGuire)
Dr. Constance O'Malley was twelve when the film Jurassic Park came to the theater near her house. She stole five dollars from her mother's purse, using it to purchase a ticket into the flickering splendor of a future she now wants to make real.
---
Emily Mah is a writer and the owner of E.M. Tippetts Book Designs, a company that provides formatting and cover design services for independent authors and publishers. Her last interview for Black Gate was with German author Emily Bold.