Dazzling Dreamscapes: Dreams of Distant Shores by Patricia A. McKillip
Dazzling Dreamscapes: Dreams of Distant Shores by Patricia A. McKillip
Dreams of Distant Shores
by Patricia A. McKillip
Tachyon Publications (288 pages, $15.95 in trade paperback/$7.99 digital, June 14, 2016)
I fell in love with Patricia A. McKillip's writing the same way you fall in love with a dessert: once I had had a small taste, I craved more. And then along came Dreams of Distant Shores, a collection of enchanting short stories sure to mesmerize the reader with every turn of phrase. Every discerning reader fortunate enough to find it will find something they enjoy. They'll likely find some old favorites as well, considering a good deal of the stories were previously published elsewhere.
In the case of "Weird," the first story in the collection, the setting is as elsewherian as you can imagine. A boy and a girl are secluding themselves in an odd bathroom from a persistent man who keeps knocking on the door. As the nameless individual continues interrupting them, the boy and girl swap stories about the singular weirdest experiences they've had to date. As so often happens with loved ones, it turns out they have common knowledge of a young man in an extraordinary story shared between them. The story tumbles on down a passage of spellbinding wonder from there. I must say this is my favorite story in the collection, what with being a storyteller myself. This one will keep you engaged like a child enraptured by their first book.
[Click the images for bigger versions.]
I can certainly say the same for "Mer," the following story. The premise will charm you out of your socks: some neighborhood workers suspect the waitress at a frequent haunt of theirs has come to life from a ship where she reigns as the figurehead. Her startling resemblance to the young woman draped on the ship sets everyone's minds stirring. Speculations flit about like butterflies. The thick plottens. I can assure you the conclusion will satisfy. I love stories involving living, breathing, seemingly ordinary people who have something extraordinary emanating from them. McKillip writes these stories like a chef who's mastered her art so superbly she has no need to consult the recipe.
Read a lengthy excerpt from "Mer" at Tor.com.
Look no further than "The Gorgon in the Cupboard" for an exquisite romp in the mind of a genius. Young Harry, working on a portrait of Medusa, converses with an animated and vivacious gorgon in his studio. His model, Jo, after disappearing for a reason that remains unexplained, returns to him. Living with a caretaker apart from Harry, she navigates through her rapidly changing life after a devastating loss. Slowly, Harry introduces her to the artists who populate his world, all the while nursing an infatuation with the wife of a friend. And through it all, the gorgon remains central to the story, acting as a superior romantic adviser to Harry. I adore this story. The romance sparkles like an array of constellations strung across the sky. McKillip gives her Medusa an infectious wit and charm that made me wish the story went on an on. I do not doubt its power to cast a spell on every last one of its readers.
In the case of spells, well, "Which Witch" has got you covered. A witch named Hazel, the third member of a rock band she founded with two fellow witches, receives a warning from her familiar. Cawley, a raven who speaks in a language unique to birds of his feather, means to warn Hazel of a dark presence. But their language barrier prevents their exchanges from stirring anything up besides frustration. Told from both Hazel and Cawley's perspectives, this story held me in a playful grip, not unlike the Scooby Doo Halloween movie set in Salem. And all the while, Hazel begins to understand her gifts. For readers who are looking for a dash of ageless hocus pocus and fun-loving witches having a ball, read this one first.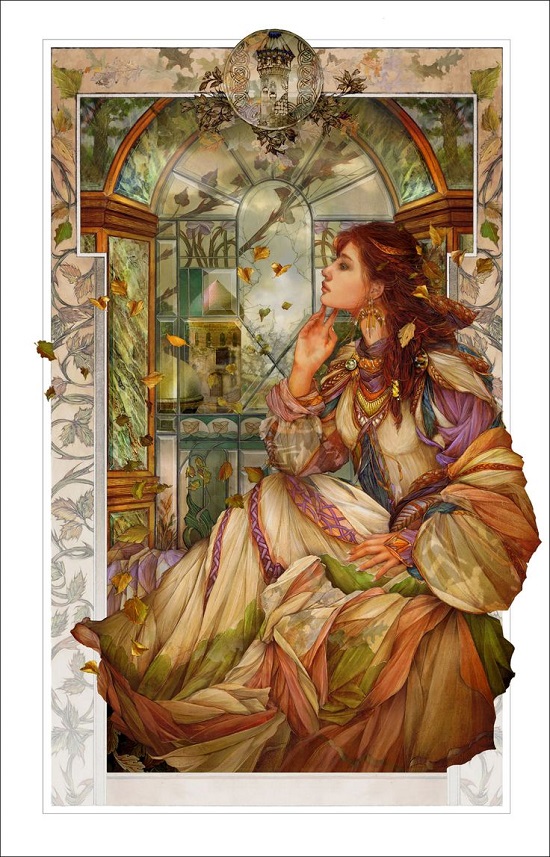 Cover by Thomas Canty
Actually, I advise you to read "Edith and Henry Go Motoring" first. Set in the quaint English countryside (think pink hunting jackets and valets), it centers around two young people out on a leisurely drive. Only things get strange when a toll bridge beckons them towards uncharted wonders. I have to say this story left me more underwhelmed than its predecessors. It may have been that I was confused about much of what occurred following the car's passage over the toll bridge. Regardless, I'd love to read your thoughts on it.
The same goes for "Alien," which will give many cause to smile knowingly to themselves. Told from the perspective of a loving granddaughter, the story centers around a grandmother and the aliens that preoccupy her thoughts. The granddaughter's family members share differing opinions about these so-called "aliens." Only the granddaughter seems to have the patience and understanding needed to understand her grandmother's thinking in regards to aliens and her television. Ultimately, they reach the same conclusion, bound by an unbreakable love. The ending took my breath away with its beauty and sincerity. I bet readers will appreciate it.
This leads me to "Something Rich and Strange," which could be a novel in itself (and if it were, I'd snatch it off the bookshelves so fast, you wouldn't even know it'd been there). It centers around Megan and Jonah, a couple living in a picturesque seaside village. Megan draws vistas of the sea, while Jonah collects fetching tchotchkes and various works of staggering beauty that he sells. Along comes a visitor, hitherto unseen in the village, who dazzles Megan with his otherworldly qualities. Fired by jealousy, Jonah pursues a singer at the local bar, whose voice he seems unable to forget. One after another, they are drawn to the depths of the sea, and their journey leads them back to one another. If you're getting hints from my descriptions of the singer at the bar and the curious visitor, I promise you you're on the right track. But wait till you read this story. It'll make a lover of the sea — and all it has to offer — out of you. I read most of it on a plane ride from California to Chicago, and let me tell you, reading McKillip's work whilst on a flight is the wisest decision I could have made.
It comes as no surprise McKillip has made numerous wise decisions in regards to her writing. In "Writing High Fantasy," she shares with us her thought processes on multiple stories and gives us insight as to what goes on in the mind of a brilliant writer. I feel that its inclusion is tremendously fitting, considering that, after reading these stories, you want nothing more than to learn how you can write like a master. We have much to learn from McKillip's bewitching talents. In the meantime, enjoy your journey.
---
Zeta Moore's last article for us was Unearthly Desires in an Unruly World: Cornelia Funke's Living Shadows. She is exploring work in care for individuals on the autism spectrum, and nerding out when she can.