Coming Soon: The Jurassic Chronicles
Coming Soon: The Jurassic Chronicles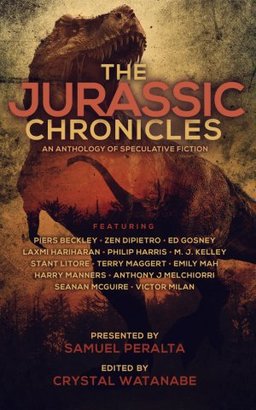 The next installment of Samuel Peralta's Chronicles series is set to launch on January 29th — the theme of this one is dinosaurs.
Edited by Crystal Watanabe and featuring stories from: Piers Beckley, Zen DiPietro, Ed Gosney, Laxmi Hariharan, Phillip Harris, M.J. Kelley, Stant Litore, Terry Maggert, Emily Mah (yes, that's me), Harry Manners, Anthony J Melchiorri, Seanan McGuire, and Dinosaur Knights author Victor Milan, it offers a broad range of stories from both established veterans and new up-and-comers.
If you haven't taken note of these anthologies, you are missing out. They feature an impressive mix of indie, hybrid, and trad pubbed authors who write science fiction and fantasy.
And this one has dinosaurs. Need I say more???
---
Emily Mah is a writer and the owner of E.M. Tippetts Book Designs, a company that provides formatting, cover design, and editing services for independent authors and publishers. Her last post for Black Gate was an interview with German author Emily Bold.