December 2016 Lightspeed Magazine Now Available
December 2016 Lightspeed Magazine Now Available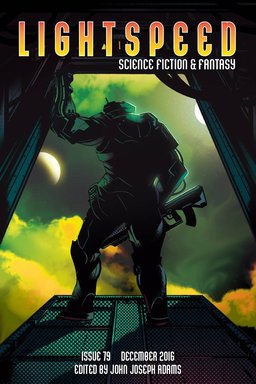 Mark Watson's Best SF blog has been reviewing SF short stories since April 2000. The reviews are sometimes short, but that doesn't mean they're not on point. Here's Mark on Rich Larson's story "The Cyborg, the Tinman, the Merchant of Death" in the December 2016 issue of Lightspeed.
Military SF although with a more human bent. The titular character is a cyborgised marine, also known as 'The Petty Officer', very much in the Halo Master Chief mould. The protagonist is a private who is transferred to the Petty Officer's squad, who is very much aware that whilst it is a recognition of his own skills, it is essentially a short term posting in his military career, and indeed, it will be his final posting – life expectancy of squad members is little more than a couple of missions.

And this is where the story gets interesting, as the private finds out more about The Petty Officer over a number of missions, and then it gets very queer….
This month's Lightspeed offers up original science fiction by Rich Larson and Joseph Allen Hill, and SF reprints by Margo Lanagan and Christie Yant, plus original fantasy by Carlie St. George and fantasy reprints by William Alexander and Shweta Narayan.
I was also very pleased to see an original fantasy from Quick Sips reviewer Charles Payseur "The Death of Paul Bunyan." Charles works tirelessly every month to promote dozens of stories from other writers on his blog; I'll be curious to see how many return the favor.
This month's Lightspeed includes an editorial from JJA, author spotlights, a review of Arrival by Carrie Vaughn, Book Reviews by Amal El-Mohtar, and an interview with Nancy Kress. The exclusive content in the ebook version this month is Michael Bishop's novella "Twenty Lights to 'The Land of Snow,'" and an excerpt from Seth Dickinson's novel The Traitor Baru Cormorant.
The cover this month is by Lovely Creatures Studio. Here's the complete contents for the December issue.
Science Fiction
"The Cyborg, the Tinman, the Merchant of Death" by Rich Larson
Sarge knew before I did, of course, but I still had to take him the transfer orders. I didn't know how to feel on my way to the officers' mess. I would miss my unit and I would miss my Sarge, but it was an honor, everyone said, to get shifted up to Incisive Maneuvers. To work with the Cyborg. The Tinman. The Merchant of Death.

"The Fifth Star in the Southern Cross" by Margo Lanagan (from Dreaming Again, 2008)
I had bought half an hour with Malka and I was making the most of it. Lots of Off girls, there's not much goes on, but these Polar City ones, especially if they're fresh off the migration station, they seem to, almost, enjoy it? I don't know if they really do. They don't pitch and moan and fake it up or anything, but they seem to be there under you. They're with you, you know?

"The Venus Effect" by Joseph Allen Hill
This is 2015. A party on a westside roof, just before midnight. Some Mia or Mina or throwing it, the white girl with the jean jacket and the headband and the two-bumps-of-molly grin, flitting from friend circle to friend circle, laughing loudly and refilling any empty cup in her eyeline from a bottomless jug of sangria, Maenad Sicagi. There are three kegs, a table of wines and liquor, cake and nachos inside.

"This Is as I Wish to Be Restored" by Christie Yant (from Analog, 2014)
Every night I come home and I drink. I trade away the hope, the guilt, the fear, even the love — I think it's love, crazy as it seems. I trade them for oblivion, because otherwise I won't sleep at all. I drink until there's no life left in me, until I'm able to forget for just a little while the chrome vessel in the corner and what's at stake. Sometimes I hope that I'll dream of her.
Fantasy
"The War Between the Water and the Road" by William Alexander (from Unstuck #3, 2014)
Oliver's father told him that the park across the street used to be a lake. The entire park, including the baseball field, the sledding hills, and the playgrounds, used to be underwater—everything except for the two sets of swings at the top of the hill. He said that highway construction had cut into secret, underground places and wounded the lake.

"Every Day Is the Full Moon" by Carlie St. George
There are things you know and things you don't know. You find it helpful to make lists. For example: THINGS YOU KNOW: — A Wrinkle in Time is bullshit. You don't care if it's Riley Chu's favorite childhood book, because she also identifies with Holden Caulfield, and thinks spiders are adorable. Riley's opinions are not to be trusted.

"Daya and Dharma" by Shweta Narayan (from GUD, 2009)
Daya opens her eyes to the colors of dusk, though she smells and hears midday. Soft light picks out yellow and turquoise stones and the bright fire of Gul-Mohar flowers; but the heat is Surya at his fiercest, making all else pale before his glory. She turns over, dazed and sluggish, listening to the distant clash of copper pots, breathing in spices cooked in coconut oil.

"The Death of Paul Bunyan" by Charles Payseur
Paul Bunyan has died. Paul Bunyan has died and Johnny Appleseed is heading north. Not for vengeance, like Paul would have wanted. Not to beat the hills red or divert a river over those responsible for killing the legend, but because it finally seems time to revisit old scars, old pains. "We were the fire in the night," Johnny remembers Paul saying one night, so long ago.
Nonfiction
Editorial, December 2016 by John Joseph Adams
Review: Arrival by Carrie Vaughn
Book Reviews, December 2016 by Amal El-Mohtar
Interview: Nancy Kress by The Geek's Guide to the Galaxy
Exclusive Paid Content
NOVELLA: Twenty Lights to "The Land of Snow" by Michael Bishop
EXCERPT: The Traitor Baru Cormorant by Seth Dickinson
See the complete issue here.
Lightspeed is edited by John Joseph Adams. Most of the content is available free online; individual issues are available in multiple digital formats for $3.99. 6-month subscriptions are just $17.94 ($6 off the cover price), or $35.88 for 12 months ($12 off the cover price). Purchase copies and sample free content at the website.
We last covered Lightspeed with Issue 78, November 2016.
Check out Lightspeed's sister magazine Nightmare, also edited by John Joseph Adams.
See our December Fantasy Magazine Rack here, and all of our recent Magazine coverage here.