Goth Chick News: New Horrific Enchantments – The Motion of Puppets
Goth Chick News: New Horrific Enchantments – The Motion of Puppets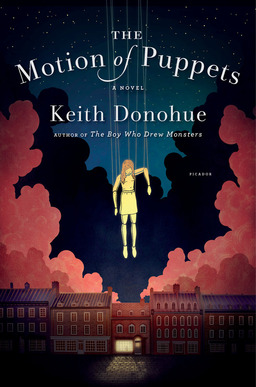 Puppets have always had a mystical (if not slightly creepy) appeal.
Sure, you may think of Disney's Pinocchio when you think puppets, but I think stuff like "Fats" from Magic; I mean come on, they have been the subject of over thirty horror movies after all. Personally, anything that mimics a human being has an unsettling aspect – like dolls and mannequins… or clowns. For this reason I was pretty excited to learn about the new offering from bestselling author Keith Donohue, who last brought us the story of that disturbing little kid in The Boy Who Drew Monsters, and now serves up a masterpiece of psychological horror that will forever change the way you look at puppet.
Described as intricately plotted, absorbing, dark, and suspenseful, The Motion of Puppets takes the unsettling idea of marionettes and mixes it up beautifully with the myth of Orpheus and Eurydice.
In the Old City of Québec, Kay Harper falls in love with a puppet in the window of the Quatre Mains, a toy shop that is never open. She is spending her summer working as an acrobat with the cirque while her husband, Theo, is translating a biography of the pioneering photographer Eadweard Muybridge. Late one night, Kay fears someone is following her home. Surprised to see that the lights of the toy shop are on and the door is open, she takes shelter inside.

The next morning Theo wakes up to discover his wife is missing. Under police suspicion and frantic at her disappearance, he obsessively searches the streets of the Old City. Meanwhile, Kay has been transformed into a puppet, and is now a prisoner of the back room of the Quatre Mains, trapped with an odd assemblage of puppets from all over the world who can only come alive between the hours of midnight and dawn. The only way she can return to the human world is if Theo can find her and recognize her in her new form. So begins the dual odyssey of Keith Donohue's The Motion of Puppets: of a husband determined to find his wife, and of a woman trapped in a magical world where her life is not her own.
Donohue delivers a moving, modern story is set in what could feel like a fairytale world, but is actually terrifyingly realistic. It is a tale of true love, missing persons, and obsession tangled in the strings that bind us all and wrapped up in one awesome creeptastic package. If you love eerie doll stories like those in Ellen Datlow's award winning The Doll Collection, or are a fan of Neil Gaiman, you will thoroughly enjoy The Motion of Puppets – scheduled for release in October of this year, from Picador.
Have a question or comment (or a disturbing puppet)?  Post a comment and tell us about it here, or drop a line to sue@blackgate.com.