Strange Aeons 19 Now Available
Strange Aeons 19 Now Available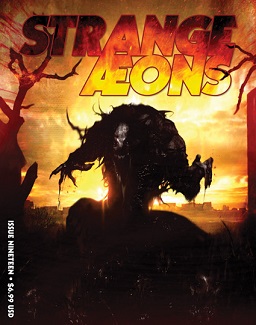 Seems to me I should be paying more attention to Strange Aeons, a magazine of horror and dark fantasy that mixes comics and graphic narratives with fiction, all in one attractive package. (The editors describe it as "the illegitimate love-child of a hot tryst between Heavy Metal magazine and Weird Tales" — and you must admit, that's an evocative image.) They've produced 19 issues since the Spring of 2010, and yet we've somehow managed to overlook them in our regular magazine coverage here at Black Gate. Shameful.
Time to correct this egregious oversight. Issue 19 is now available, and it contains fiction by Kristi Demeester, CM Muller, and Michael Wehunt, and comics by Rob Corless, John Donald Carlucci, and Eric York. Here's the issue description from the website.
Our magnificent Issue Nineteen is now available!

Our amazing cover is by artist Clint Langley, and it was originally commissioned for a film we were pitching called Sunset. The film never got made, but the cover sure is gorgeous!

52 pages of gorgeous B&W and Color Comics by Rob Corless, John Donald Carlucci, and Eric York! Three Fiction Stories by Kristi Demeester, CM Muller, and Michael Wehunt! Articles, Columns, Reviews and so much more can be found waiting inside, including an interview with the maniac behind the Dreams in the Witch House rock opera, Mike Dalager!

And as an added bonus, a collectible Art Card from the incredible Mohloco!
Check out the full details, including sample pages, below.
Here's the complete Table of Contents.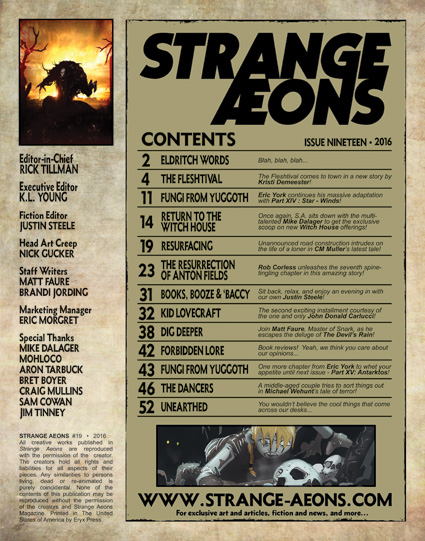 One thing I've been impressed with is the design, which is several steps ahead of most American fiction magazines. Here's a look at the editorial, Eldritch Words.
And here's sample pages from two comics: An adaption of Lovecraft's "Fungi From Yuggoth," and "The Resurrection of Anton Fields" by Rob Corless.
An interview with Mike Dalager, the man behind the rock Opera Return to the Witch House.
Matt Faure's classic film column Dig Deeper.
And a house ad for cool merchandise!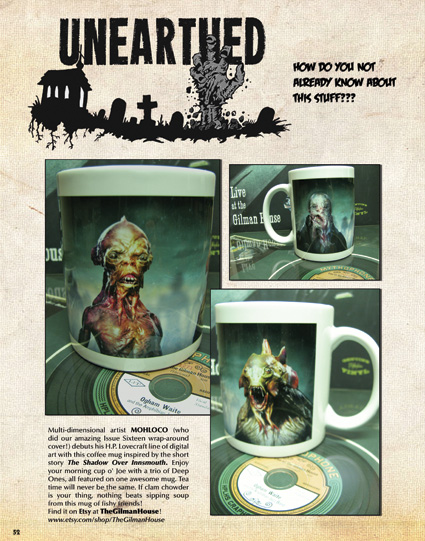 Strange Aeons is edited by Rick Tillman, and published quarterly by Eryx Press. This issue is 56 pages, priced at $6.99. There's no subscription info that I can find, but you can order individual copies right on the website. You can also check out their Facebook page here.
See our July Fantasy Magazine Rack here, and all of our recent Magazine coverage here.