July 2016 Lightspeed Magazine Now Available
July 2016 Lightspeed Magazine Now Available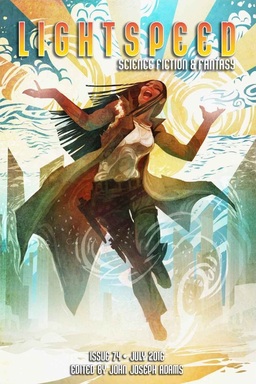 The complete July issue of Lightspeed is now yours to enjoy free online. This month brings new fantasy by Rochita Loenen-Ruiz and Kenneth Schneyer, and fantasy reprints by A. Merc Rustad and Spencer Ellsworth, plus original science fiction by Ted Kosmatka and Jilly Dreadful, along with SF reprints by Genevieve Valentine and Seth Fried.
In his editorial, editor John Joseph Adams shares some award good news, plus intriguing news about his new book line with Houghton Mifflin Harcourt:
We're thrilled to report that Alyssa Wong's story, "Hungry Daughters of Starving Mothers," from the Queers Destroy Horror! special issue of Nightmare (Oct. 2015), won the Nebula Award for best short story! Congrats to Alyssa and to all of the other winners. You can find a full list of the winners at SFWA.org/nebula-awards…

John Joseph Adams Books News

In my role as editor of John Joseph Adams Books for Houghton Mifflin Harcourt, I just acquired two books in a new series by Molly Tanzer (author of Vermilion).

The first book is Creatures of Will and Temper, a Victorian-era urban fantasy inspired by The Picture of Dorian Gray, in which epee-fencing enthusiast Evadne Gray and her younger sister are drawn into a secret and dangerous London underworld of pleasure-seeking demons and bloodthirsty diabolists, with only Evadne's skill with a blade standing between them and certain death.

Publication of book one will likely happen in late 2017. Can't wait for you all to read it!
I'm especially intrigued by the Book News. We covered Molly Tanzer's Vermilion here, and I'm very interested in seeing her latest. John has proved to be an editor with a very keen eye… What other wonders will he offer us through John Joseph Adams Books? I'm looking forward to finding out.
The July issue of Lightspeed also features author spotlights, book reviews by Andrew Liptak, a review of the Warcraft movie by Carrie Vaughn, and an interview with Alex Garland. The ebook also includes a reprint of Walter Jon Williams's "Surfacing" and a novel excerpt.
The cover artist this issue is Galen Dara. Here's the complete contents for the July issue.
Fantasy
"Magnifica Angelica Superable" by Rochita Loenen-Ruiz
A woman from the street came in laughing from the cold. It was funny to see her with her black hair blowing all about her face. Her face was red. Red from the cold, red from the laughing, red from the rage that fueled that laughter. There are funnier things than a woman like that, but, well, she was the only one we got to look at that afternoon. Her name was some kind of long. It was Magnifica Angelica something at the end.

"Finding Home" by A. Merc Rustad (from Vitality Magazine, 2015)
The reality I was born in ceased to exist when I was three years old. So Mama and I moved to a different reality. We moved a lot, actually. "We can't stay more than a few years," Mama would say as she unzipped the fabric of the space-time continuum and scanned the flickering images inside. There were so many, I got motion sick if I looked too long. But Mama always knew which one to pick.

"Some Pebbles in the Palm" by Kenneth Schneyer
Once upon a time, there was a man who was born, who lived, and who died. We could leave the whole story at that, except that it would be misleading to write the sentence only once. He was born, he lived, and he died, was born, lived, died, bornliveddied. The first few words of a story are a promise. We will have this kind of experience, not that one. Here is a genre, here is a setting, here is a conflict, here is a character. We don't know what is coming next, but we do know what is coming next.

"The Child Support of Cromdor The Condemned" by Spencer Ellsworth (from Podcastle, 2015)
Cromdor the Calderian, thrice-cursed, thrice-condemned, (I've forgotten the rest, but believe you me, there is thrice-more) had nearly finished his tale when the traveler slipped in. As he had for the last ten days and ten before that, Cromdor had a packed house. 'Course, "packed house" is relative—last winter a mudslide tore away half the common room, and Yargin had been rebuilding when he fell through the thatch and died on that floor.
Science Fiction
"Small Medicine" by Genevieve Valentine (from Upgraded, 2014)
"You remember your grandmother," they'd said to Sofia when she was seven, and she'd looked up and said, "Not this one." Her parents always told it smiling, like it was clever of her to have noticed Grandmother had changed; who could have told the difference, they asked each other, and her grandfather nodded his familiar amazement, and in the corner the machine that wasn't her grandmother looked back and forth with a smile.

"The One Who Isn't" by Ted Kosmatka
It starts with light. Then heat. A slow bleed through of memory. Catchment, containment. A white-hot agony coursing through every nerve, building to a sizzling hum—and then it happens. Change of state. And what comes out the other side is something new. The woman held up the card. "What color do you see?"

"Hello Again" by Seth Fried (from Tin House #59, 2014)
After a long and tumultuous expansion, the universe began to contract. The speed with which it had cast itself out was finally overpowered by the inward gravitational pull of its own suspended matter, and so the stars and planets paused like weary travelers before beginning to drift the long way back toward one another. They drew together in great clumps, colliding with such force that they collapsed into black holes. Thus, all of creation devoured itself and was compressed down to a region of incredible heat and density.

"5×5" by Jilly Dreadful
Dear Scully, I should've been suspicious of the girl in the lab coat offering me psychic ice cream. But with you and your ponytail, the psychic ice cream just seemed so harmless. After it gave me a brain freeze that'd make the Sierra Nevada Mountains jealous, imagine my surprise when I started hearing people's thoughts—thank science it's only temporary! Good call on that, by the way.
Nonfiction
Editorial, July 2016 by John Joseph Adams
Movie Review: Warcraft by Carrie Vaughn
Book Reviews: July 2016 by Andrew Liptak
Interview: Alex Garland by The Geek's Guide to the Galaxy
Exclusive Paid Content
NOVELLA: "Surfacing" by Walter Jon Williams
AUTHOR SPOTLIGHT: Walter Jon Williams by Moshe Siegel
Read the complete July issue of Lightspeed here.
Lightspeed is edited by John Joseph Adams. Most of the content is available free online; individual issues are available in multiple digital formats for $3.99. 6-month subscriptions are just $17.94 ($6 off the cover price), or $35.88 for 12 months ($12 off the cover price). Purchase copies and sample free content at the website.
We last covered Lightspeed with Issue 73, June 2016.
Check out Lightspeed's sister magazine Nightmare, also edited by John Joseph Adams.
See our July Fantasy Magazine Rack here, and all of our recent Magazine coverage here.