Clarkesworld 118 Now Available
Clarkesworld 118 Now Available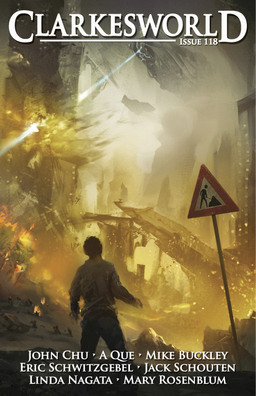 Clarkesworld #118 has five new stories by Mike Buckley, Eric Schwitzgebel, John Chu, Jack Schouten, and A Que, and two reprints by Linda Nagata and Mary Rosenblum.
Short stories featured this issue are:
"Helio Music" by Mike Buckley
"Fish Dance" by Eric Schwitzgebel
"The Sentry Branch Predictor Spec: A Fairy Tale" by John Chu
"Sephine and the Leviathan" by Jack Schouten
"Against the Stream" by A Que
"Nahiku West" by Linda Nagata (from Analog Science Fiction, October 2012)
"Lion Walk" by Mary Rosenblum (from Asimov's Science Fiction, January 2009)
The non-fiction is:
Paradise Lost: A History of Fantasy and the Otherworld by Christopher Mahon
Talkative Creatures and a Mesozoic Cocktail: A Conversation with Michael Swanwick by Chris Urie
Another Word: Burning Bridges by Peter Watts
Editor's Desk: What is it with Readercon? by Neil Clarke
Clarkesworld typically posts several Podcasts during the month. The first one is:
"Helio Music" by Mike Buckley, read by Kate Baker
We last covered Clarkesworld with Issue 117.
Clarkesworld is edited by Neil Clarke and Sean Wallace, and published by Wyrm Publishing. The contents are available for free online; individual issues can be purchased for $3.99, and monthly subscriptions are $2.99/month. A 6-month sub is $17.94, and the annual price is $35.88. Learn more and order individual issues at the magazine's website.
See the complete issue here.
Our Late June Magazine Rack is here. See all of our recent fantasy magazine coverage here.