Clarkesworld 117 Now Available
Clarkesworld 117 Now Available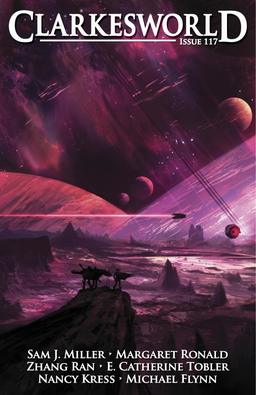 In his editorial this issue, Neil Clarke has some powerful words to say about how all of us can help keep short fiction alive.
If we want short fiction to thrive, we have a responsibility to spread the word and promote the works we've enjoyed. There are many ways to do this, but it needs to be focused, respectful, and timely. More specifically, it needs to be done in locations that are relevant to the audience you are trying to attract. Your blog is nice, but adding Twitter or Amazon might have a bigger impact.

Reviewing isn't for everyone, mind you. I really wanted to do my part and find a way to contribute to a positive conversation about short fiction. I tried writing reviews. The blank screen tormented me and it took a while to realize that I wasn't following the path that best utilized my skills. Instead, I changed tactics and launched Forever Magazine as a way of bringing back some of the stories I've enjoyed. When I go full-time this year, I hope to be able to do a bit more with that project.
Read his complete editorial here.
Clarkesworld #117 has four new stories by Margaret Ronald, Sam J. Miller, E. Catherine Tobler, and Zhang Ran, and two reprints by Michael Flynn and Nancy Kress.
Short stories featured this issue are:
"And Then, One Day, the Air was Full of Voices" by Margaret Ronald
"Things With Beards" by Sam J. Miller
".identity" by E. Catherine Tobler
"The Snow of Jinyang" by Zhang Ran
"The Promise of God" by Michael Flynn (from The Magazine of Fantasy & Science Fiction, March 1995)
"Pathways by Nancy Kress (from Twelve Tomorrows, edited by Stephen Cass)
The non-fiction is:
The Science Fiction Future of the Microbiome by Matthew Simmons
The 'Quarter Turn' of History: A Conversation with Guy Gavriel Kay by Chris Urie
Another Word: Publishing — Jump In, the Water's Fine by Alethea Kontis
Editor's Desk: In My Own Way by Neil Clarke
Clarkesworld typically posts several Podcasts during the month. The first three are:
And Then, One Day, the Air was Full of Voices by Margaret Ronald read by Kate Baker
Things With Beards by Sam J. Miller read by Kate Baker
.identity by E. Catherine Tobler read by Kate Baker
We last covered Clarkesworld with Issue 116.
Clarkesworld is edited by Neil Clarke and Sean Wallace, and published by Wyrm Publishing. The contents are available for free online; individual issues can be purchased for $3.99, and monthly subscriptions are $2.99/month. A 6-month sub is $17.94, and the annual price is $35.88. Learn more and order individual issues at the magazine's website.
See the complete issue here.
Our June Magazine Rack is here. See all of our recent fantasy magazine coverage here.