On SF Conventions and Brexit
On SF Conventions and Brexit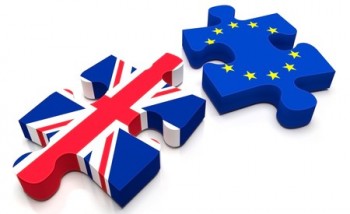 "Brilliant!" I thought — this was three and a half years ago, you understand. These days I'm more likely to use the word "awesome." But I digress…
I had received an invite to a Science Fiction convention in Luxembourg. I was expecting a relaxing weekend, sitting in an empty room. You see, everybody knows Luxembourg is tiny, and since they never had a convention before this, the organisers were doomed to struggle for numbers. They might get twenty people, I thought. Thirty tops…
I've never been so wrong in my life. The place was swarming with people. In fact, it was the largest Con I had ever attended outside North America. But where the hell did they all come from?
Europe, of course.
My mistake was to think of Luxembourg as a country. Well, it is, but that's not what's important here. What's important, is that it no longer possesses any borders. People arrived from Paris and Brussels by trains that never even slowed down when they passed from one state to another. They drove by car from Germany and only realised they had crossed over from their own country when they started spotting road signs in French.
Then, they reached the Con — thousands of them, overwhelmingly young, buying wonderful Belgian frites with the same currency they already had in their pockets.
I sat in the sunshine speaking to people, sometimes in French, but mostly in an English that many of them had honed by spending time studying or working in the UK. I admired their incredibly creative costumes, and more than one person sported a t-shirt with a Union Jack on it, because in the heart of our continent, among the youth, Britain was seen as cool; as forward looking; as open.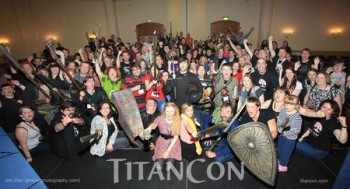 This was Europe as it was always meant to be. Friendly, vibrant, thriving. Made possible, not in spite of, but because of decades of regulations and the harmonisation of national laws. It's what the young see when they travel. It's their country now, the one they would "want back" if ever they were to lose it.
I get to experience a little of that here in Ireland too.
I remember the bad old days, growing up in Donegal, and having to pass over the border. I remember soldiers scarcely older than myself, armed with big guns, passing down the aisle of the bus while everybody stared at the back of the seat in front of them.
Yet now, when I attend my favorite convention — TitanCon in Belfast — I just hop into my car, and keep driving until I reach the hotel. Nobody says "boo" to me. I don't have to wait in a line of traffic while every fourth car is searched for contraband or terrorists. It's all so… frictionless. Sure, the road signs are in miles, rather than kilometers, but that's actually charming. The only thing I miss, really, is the Euro.
I'm heart-broken over the UK's vote to leave us. I'm terrified that the lovely European dream I experienced in Luxembourg might soon be at an end and I'm working hard to stave off bitterness and resentment. I want the future to be "brilliant" again, the way I thought it was, or at least, the way it might have been.
---
Peadar O'Guilin's last article for us was The Iron Dragon's Daughter: A Wholly Biased Review;. His new novel The Call will be released by David Fickling Books on August 30, 2016.