Amazing Stories, October 1962: A Retro-Review
Amazing Stories, October 1962: A Retro-Review
Back to Cele Goldsmith's Amazing. This is a minor issue in context.
The cover is by an artist I'm not familiar with, Bill Conlon. The interiors are by Virgil Finlay, Austin Briggs, George Schelling, Lloyd Birmingham, and Dan Adkins. Norman Lobsenz' editorial is about science vs. the humanities. The science fact article is called "The Nuclear Putt-Putt," by Frank Tinsley, and it's about Project Orion (the notion of propelling a spacecraft by nuclear bombs). Sam Moskowitz contributes a profile of the late Henry Kuttner, reflecting the view that much of what he wrote under his own name was garbage, so no one could believe he was behind the Lewis Padgett stories.
S. E. Cotts' book review column covers Great Science Fiction by Scientists, edited by Groff Conklin; The Long Tomorrow, by Leigh Brackett; Return to Otherness, by Henry Kuttner; Telepath, by Arthur Sellings; and The Super Barbarians, by John Brunner. He praises the Conklin anthology for its off-center focus — the fiction of actual working scientists — less than for the quality of the actual stories. The review of The Long Tomorrow is an out and out rave (with an apology for having taken so long to get around to it).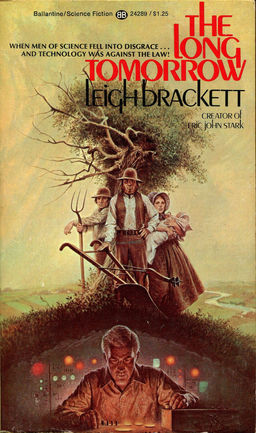 He's a bit mixed on the Kuttner collection — the funny stories he likes, the serious ones, not so much. He allows the Brunner to be "enjoyable entertainment," not particularly original, and notes that Brunner is "capable of better," and wonders when he'd get to doing better. (The answer, it turned out, was "very soon.") As for Sellings, Cotts is quite critical — he suggests that Sellings is a good enough writer, but not a very good Science Fiction writer.
I have to say that, to the extent I know much about the books in question, I agree whole-heartedly with Cotts' views. This time. (I've disagreed in some other cases.) So it was interesting to find, in the letter column, .".. Or So You Say," the first letter opening with the line "Something has got to be done about S. E. Cotts." The Cotts hater was Chuck Cunningham. Clayton Hamlin wrote asking Sam Moskowitz to cover Eric Frank Russell. Bill Read, Philip Bridges, and Arnold Katz were the other writers. Of these, Andy Porter mentions that Katz in particular is a well-known fan, and that Clay Hamlin was also familiar to him.
There's one more feature, "Through Time and Space with Benedict Breadfruit," one of a series of short punning pieces, obviously influenced by R. Bretnor's Ferdinand Feghoot storylets, bylined "Grandall Barretton." In these stories the central pun is always on the name of a well-known SF writer. This one is advertised as the last in the series, and as such the pun is about the actual writer of the series … you probably know who it is already, but if you are wondering, the story concerns an attic room patronized by lusty folk.
The stories are:
Novelet
"Escape From Orbit," by Poul Anderson (8,700 words)
Short Stories
"The Young Old Man," by Earl L. Bell ("Classic Reprint") (5,000 words)
"Answer, Please Answer," by Ben Bova (,6500 words)
"After Ixmal," by Jeff Sutton (4,800 words)
"Boy Meets Dyevitza," by Robert F. Young (6,400 words)
"Pattern," by Robert H. Rohrer, Jr. (5,000 words)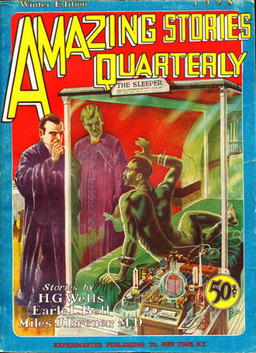 "Escape from Orbit" is Anderson doing character-driven fiction, and to my mind trying a bit too hard. It's told from the point of view of an ex-astronaut who has taken a desk job for NASA at the behest of his wife. But his wife appears to be a terrible woman — an alcoholic perhaps, lazy, won't sleep with him, etc. He spends a good part of the story musing about the possibility of an affair with a co-worker, or thinking about a woman he had dated long ago. The action concerns a spaceship disaster — it's been holed by a meteor, and three of his friends are marooned in the escape capsule, with no way to safety before a solar flare erupts. Our hero must come up with a way to save them, and of course he does. That part's not so bad, but kind of obvious, and the hero's moping kind of wore on me.
"The Young Old Man" was first published in the September 1929 issue of Amazing. Sam Moskowitz thought Earl Bell only published one other SF story ("The Moon of Doom" in Amazing Story Quarterly in Winter 1928) but the ISFDB also shows stories in Weird Tales in 1924 and 1930. This story is a story about an immortal, and for some reason Moskowitz in his introduction views it as a Wandering Jew variant, which doesn't seem true at all. It's just about a very long-lived man.
It's not bad — a couple of campers in the Ozarks run across his store more or less by accident, and they become very interested in him — and an old book he has. They are surprised to learn that he died a couple days later, and they visit the coroner, trying to buy the book, and as it happens they are allowed to read a letter he leaves them, telling of his long life, and especially how he became immortal. That leads to a mild and to me unsurprising, ending twist, as the name of the person who made him immortal is revealed. (I thought it easily guessed.)
Ben Bova's "Answer, Please Answer" tells of a pair of astronomers who detect a signal from a distant star. It goes into their efforts to decode the signal, and then the message they receive … a rather chilling message, underlined by something else they see soon after … An OK piece.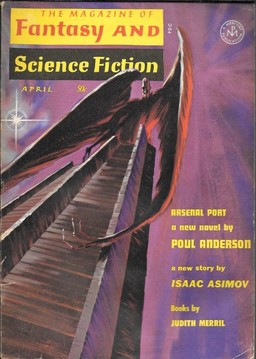 Jeff Sutton (1913-1979) doesn't seem to be much remembered these days, but he published quite a few novels (Wikipedia says 23) between 1958 and his death, many YA, and these often in collaboration with his wife Jean. I have a notion that he sometimes published under his full name, Jefferson Sutton.
The ISFDB only knows of three short stories, however. "After Ixmal" is a decent piece, about an AI created by humans, who decides that it is more important that its creators, leading to their destruction, and eventually to its, when it becomes embroiled in a rivalry with another AI.
"Boy Meets Dyevitza" is Robert Young in his cloyingly sentimental mode — it's about the race to Venus between the US and the USSR, in which the Soviets trump the US by sending a woman… but when she and the American man meet, one thing leads to another, and true love manages to convince the rival powers to abandon their hostilities. I wasn't convinced.
Last, another Robert H. Rohrer, Jr., story. I've covered him before — he was a very precocious author, 16 years old when this story, "Pattern" (his second), was published. He ended up publishing 16 stories in all, mostly in Amazing/Fantastic and in F&SF, all before he turned 20. Then he stopped, apparently losing interest. His father was a physicist at Emory University in Atlanta, GA. Richard Moore reported that he met him (the son)… he had become a journalist and given up SF writing.
His stories showed real promise — not great stuff, but sometimes quite decent: had he wanted to, he might have become pretty good. Apparently he included a memoir in the SIU Press reprint of the April 1965 issue of F&SF — does anyone have a copy of that reprint to look at the memoir?
Anyway, "Pattern" concerns an energy creature in space that encounters a ship with a human crewman. Desperate for sustenance, he tries to consume the "life-impulse" of the human, but its internal "pattern" is too different, and a sort of battle ensues, which the human wins, but at a scary cost. Not a great story, but not bad, with a nicely turned conclusion.
---
Rich Horton's last Retro Review for us was the January 1955 issue of Science Fiction Stories.