New Treasures: The Trials of Apollo: The Hidden Oracle by Rick Riordan
New Treasures: The Trials of Apollo: The Hidden Oracle by Rick Riordan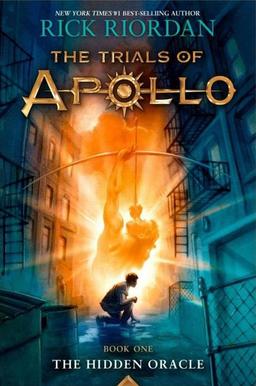 I was tremendously impressed to see best-selling author Rick Riordan matching $10,000 in donations made to Rosarium Publishing's recent (and very successful) Indiegogo campaign. You don't often see that level of small press love from someone who makes millions through a Manhattan publisher.
Rick Riordan seems like a solid all around guy, and I'm not just saying that because he said great things about my man Carlos Hernandez's first collection, The Assimilated Cuban's Guide to Quantum Santeria. Riordan is the author of the international bestselling Percy Jackson series, as well as the Kane Chronicles, and the Heroes of Olympus. His latest series for young readers, The Trials of Apollo, kicks off with The Hidden Oracle, now on sale from Disney-Hyperion.
How do you punish an immortal?

By making him human.

After angering his father Zeus, the god Apollo is cast down from Olympus. Weak and disoriented, he lands in New York City as a regular teenage boy. Now, without his godly powers, the four-thousand-year-old deity must learn to survive in the modern world until he can somehow find a way to regain Zeus's favor.

But Apollo has many enemies-gods, monsters, and mortals who would love to see the former Olympian permanently destroyed. Apollo needs help, and he can think of only one place to go… an enclave of modern demigods known as Camp Half-Blood.
The Trials of Apollo, Book One: The Hidden Oracle was published by Disney-Hyperion on May 3, 2016. It is 384 pages, priced at $19.99 in hardcover and $14.99 for the digital edition.