More Mogollon Memories: Jack Kirby's Monsters and the Mogollon Monster Live on the Rim
More Mogollon Memories: Jack Kirby's Monsters and the Mogollon Monster Live on the Rim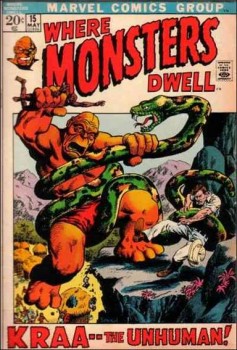 My Grandad claimed he saw the Mogollon Monster once, when he drove up the Rim to visit the land they'd bought to build the cabin. He had pulled to the side of the road, let his dog out to run, and the dog got wind of something that upset him.
I don't know more of the story than that — Grandad's no longer around to fill the gaps and, anyway, maybe he'd embellish just to get a rise out of us.
When we were young, he and Nan drove us up to visit the land, and my Grandad was a very quiet man while Nan chattered away keeping us entertained.
But at one point, when we'd gotten way up as near the sky as you can get in Arizona, where the snowdrifts were two feet deep, Grandad pulled to the side of the road, without a word, got out, came around back of the truck, opened the tailgate, grabbed each of us, methodically, and tossed us into the snow.
We laughed fit to burst, then Nan dusted the snow off our pants, loaded us back up, and we were on our way.
Trifles 'n Treasures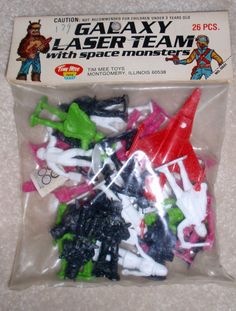 My Nan would take us shopping, and we begged her to take us because she'd buy something for each of us — often a couple or three things if you just couldn't make up your mind between the bag of Galaxy Laser Team w/ Space Monsters plastic figures or the giant lollipop. I don't know if she ever actually did any shopping for herself — she was there to splurge on the 8 to 10 grandchildren (and sometimes a friend or two we'd brought along).
One place she liked to go was a junk shop just outside of Heber called Trifles 'n Treasures (I adore that name — if I ever open a junk shop I'm gonna steal it). The place looked like the yard of Sanford and Son. Inside, the rows of shelves filled with old appliances, car parts, and tools held little interest for me, but one time the guy reached down behind the counter and pulled out a box of old comic books. Now, that was back in the late '70s, so old comic books back then meant Silver Age — and of course if we'd known then what we know now, we'd have bought the whole damn box.
Anyway, I got to pick out a couple, and therein I discovered Jack Kirby's monsters. One that especially made an impression on me was an orange hulk-like brute rampaging through the jungle battling giant pythons and the like. And right there, I was nudged a little further onto the trajectory that my life would take.
Interesting thing about a dusty box of Bronze and Silver Age comics full of monsters and space-men and superheroes: it has lodged itself in my mind as a metaphor for the Holy Grail of happiness, the Wellspring of bliss, the Key to contentment. I mean truly. My subconscious has chosen that object — a dusty box of comics — to represent recovery of a type of innocent joy: every few years I have a dream in which I pull out a dresser drawer in a closet somewhere, and there is a pile of those comics I had when I was a kid and that I thought long gone. In my own corner of Dreamland, that moment is like striking the lottery or opening your door to find the girl you had the biggest crush on waiting there to greet you in a bikini (she — not you — wearing the bikini). I mean, it's transcendent.
Yep. Sometimes trifles can be treasures.
The Heber Country Store
Walking out onto the front porch of the Heber Country Store with your Nan and your cousins, clutching a rubber jiggler monster from the 25-cent vending machine in one hand and a beefy jerky stick in the other…Turns out few subsequent moments in life are better than that. Men amass fortunes trying, in vain, to reclaim such a feeling.
Mogollon Monster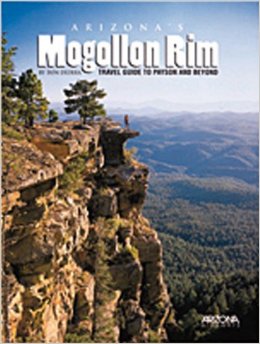 The stray piece of animal hair we found snagged on a tree, Doug and I told the wide-eyed younger cousins, came from Bigfoot.
And that spot where pine needles were kicked up?
A big Bigfoot footprint, naturally.
And we claimed we'd heard him howling out there on the Rim in the dead of night, when we were all supposed to be asleep.
The dogs out in the kennels had been howling, and then we heard Grandad in the next room rise from bed, go to the window, and holler at them to hush up. And we hushed ourselves up, so we would not be hollered at. We tried to choke down giggles that came unbidden, to smother them into our pillowcases. To no avail.
Grandad poked his head into the room, in his gruff voice said, "You young men are supposed to be asleep."
And then we did drift off to sleep, until the sun shone in through the curtains a summons to get up and devour Nan's breakfast of sausage and eggs and biscuits and then rush out the door, into the pines, to go on a Bigfoot hunt.
There was the world, and everything, and so many days ahead of us. When you ran into the sunlight and that pine smell smacked you, you were immortal.
You didn't even think of it, of the world coming to an end, or your time on it. Even that day would go on forever.
Was there ever a better time than that?
Maybe the Mogollon Monster is just a kid who decided never to leave.
Mogollon Baseball
We'd tramp from the cabin to a small field bounded by ponderosa pines, carrying bats and balls and gloves, me reluctantly.
Me, uncoordinated, this game an exercise in frustration. Oh, I wanted to hit that ball, smack it, send it rocketing out over the pines. I'd step to the plate, my awkward stance, and lucky if I clipped a foul ball into the tree behind me.
My cousin Doug, he got most of the athletic genes. I felt envy, but mostly just wanted to go back and page through comics or play some D & D. Lainie, my sister, played softball in high school. Missy — cousin not by blood but because we all grew up together — she landed a scholarship and went on to coach championship college teams. Jason, who became a bodybuilder, he could really take a crack at whatever you pitched him.
No, I did not look competent next to these kids. I wanted to. But somehow, defiantly, the ball refused to be in the same spot at the same time as my bat.
The stitched-leather ball felt good in the palm of my hand. The heft of the wooden bat felt good in the palms of my hands. But, dammit, I could never bend them to my will.
And so the game would wind down, to my relief, and we'd move on to another adventure, pretending to be cowboys and Indians or army men, which I was very good at — because with an invisible gun you always hit your target — or trekking down to the Circle K for comics and candy. I was back in my world.
But now here I am, an aging man, and oh how I wish to be back there in that field carpeted with pine needles, standing next to that slat of splintered plywood, home plate, to have another crack at that white line blur, my cousins around me, field humming with their vitality, their youth and energy and unsapped life, the easy weight of the bat, the springy hardness of the ball, and the smell of the pine,
the smell of the pine…