February Issue of Swords and Sorcery Magazine Now Available
February Issue of Swords and Sorcery Magazine Now Available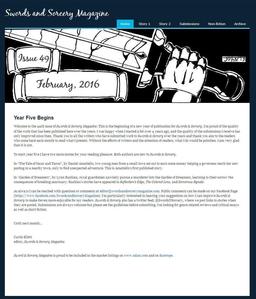 Issue 49 of Curtis Ellett's Swords and Sorcery Magazine, cover-dated February 2016, is now available.
In his February Short Story Roundup, Black Gate's roving reporter Fletcher Vredenburgh had this to say about the latest issue:
Issue 49 kicks off the mag's fifth year. Congratulations are definitely due Mr. Ellett for holding the genre's banner high…

The magazine's second story, Lynn Rushlau's "The Garden of Dreamers" is much better at achieving its author's goal, which apparently was to creep the everloving snot out of me.

A group of guardsman and their commander have been sent to the Garden of Dreamers on a mission. They must overcome the Garden's servitors, and their fears, to capture their quarry. It's very short with little plot, but it creates an intense atmosphere of unpleasant closeness I found perfectly unnerving.
Each issue of Swords and Sorcery Magazine contains two short stories, and is available free online. Here's the issue summary.
In "The Tale of Oscar and Taron", by Daniel Amatiello, two young men from a small town set out to earn some money helping a governess reach her new posting in a nearby town, only to find unexpected adventure. This is Amatiello's first published story.

In "[The] Garden of Dreamers", by Lynn Rushlau, royal guardsmen unwisely pursue a murderer into the Garden of Dreamers, learning to their sorrow the consequences of breaking sanctuary. Rushlau's stories have appeared in Reflection's Edge, The Colored Lens, and Sorcerous Signals.
Read the current issue here. We last covered Swords and Sorcery Magazine with Issue #48.
See our March Fantasy Magazine Rack here, and all of our recent magazine coverage here.