January Issue of Swords and Sorcery Magazine Now Available
January Issue of Swords and Sorcery Magazine Now Available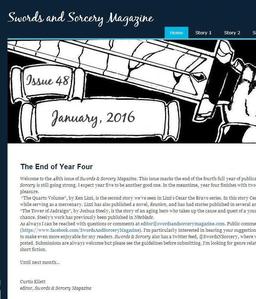 Issue 48 of Curtis Ellett's Swords and Sorcery Magazine, cover-dated January 2016, is now available. Each issue contains two short stories, and is available free online. Here's the issue summary:
"The Quarto Volume," by Ken Lizzi, is the second story we've seen in Lizzi's Cesar the Bravo series. In this story Cesar encounters forbidden knowledge while serving as a mercenary. Lizzi has also published a novel, Reunion, and has had stories published in several anthologies.

"The Tower of Jadraign," by Joshua Steely, is the story of an aging hero who takes up the cause and quest of a young woman he encounters on the road by chance. Steely's work has previously been published in Niteblade.
Fletcher Vredenburgh reviewed this issue in his January Short Story Roundup, saying:
The issue kicks off with the impressive (and impressively titled) "The Quarto Volume, or Knowledge, Good & Evil" by Ken Lizzi. Cesar is a member of a mercenary company in a land similar to Renaissance Italy but with demons and wizards. Those who control those spirits control the world, and that's a small number of people. Now, Cesar learns, there's the possibility of power escaping into the hands of the many. Cesar is cut from the same cloth as any number of roguish heroes, but Lizzi's prose lends him a clear voice and the setting has great potential…

The second story, "The Tower of Jadraign," by Joshua Steely, opens with Eth, a grizzled soldier, rescuing a woman from the hands of a barbarian she has fallen in with. She promptly tries to get him to accompany her to the legendary Tower of Jadraign… I like this one. While not amazing or anything, I found the ending very satisfying.
Read the current issue here. We last covered Swords and Sorcery Magazine with Issue #47.
See our February Fantasy Magazine Rack here, and all of our recent magazine coverage here.