Future Treasures: The Lyre Thief by Jennifer Fallon
Future Treasures: The Lyre Thief by Jennifer Fallon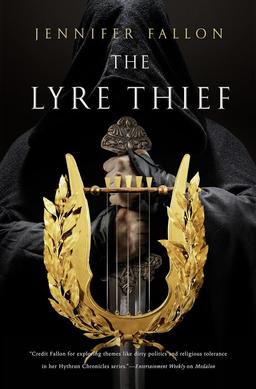 Jennifer Fallon's popular Hythrun Chronicles began with The Demon Child trilogy (Medalon, Treason Keep, and Harshini); the Wolfblade trilogy (Wolfblade, Warrior, Warlord) followed soon after. All six were published in hardcover by Tor in the US.
After a decade, Fallon returns to the world of the Hythrun Chronicles with The Lyre Thief, the first novel in a new trilogy. It's a tale of powerful magics, byzantine politics, sweeping adventure and romance, and it arrives in hardcover from Tor next month.
Her Serene Highness, Rakaia, Princess of Fardohnya, is off to Hythria, where her eldest sister is now the High Princess, to find herself a husband, and escape the inevitable bloodbath in the harem when her brother takes the throne.

Rakaia is not interested in marrying anyone, least of all some brute of a Hythrun Warlord she's never met, but she has a plan to save herself from that, too. If she can just convince her baseborn sister, Charisee, to play along, she might actually get away with it.

But there is trouble brewing across the continent. High Prince of Hythria, Damin Wolfblade, must head north to save the peace negotiated a decade ago between the Harshini, Hythria, Fardohnya, Medalon and Karien. He must leave behind an even more dangerous conflict brewing between his wife and his powerful mother, Princess Marla.

…And in far off Medalon, someone has stolen the music.

Their quest for the tiny stolen lyre containing the essence of the God of Music will eventually touch all their lives, threaten everything they hold dear and prove to be far more personal than any of them can imagine.
The Lyre Thief will be published by Tor Books on March 8, 2016. It is 445 pages, priced at $27.99 in hardcover and $14.99 for the digital edition. Read "First Kill," a short story set in the world of the Hythrun Chronicles, for free at Tor.com.