New Treasures: Broken Hero by Jonathan Wood
New Treasures: Broken Hero by Jonathan Wood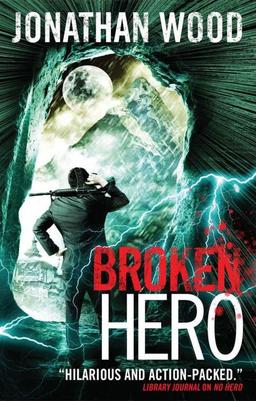 Horror and comedy are a tough mix — but it can be a great combo when done right. Jonathan Wood seems to have the touch… his debut novel No Hero, the first book in the Arthur Wallace series, was called "a funny, dark, rip-roaring adventure with a lot of heart" by Publisher's Weekly, and listed as one of the 20 best paranormal fantasies of the past decade by Barnesandnoble.com. Starburst called the third installment, Anti-Hero, "A gripping tale of dark comedic horror."
The fourth volume, Broken Hero — featuring the continuing misadventures of MI37 agent Arthur Wallace, tasked with dealing with the supernatural, extraterrestrial, and the generally odd — was released late last month by Titan.
How's a secret agent meant to catch a break? If it's not a demi-god going through puberty, it's a renegade Nazi clockwork army going senile. Or a death cult in Nepal. Or a battery-chewing wizard's relationship problems. Arthur Wallace, agent of MI37 — Britain's agency for dealing with the supernatural, the extraterrestrial, and the generally odd — has to pull everything together, and he has to do it before a magical bomb tears reality apart…
Jonathan Wood's short fiction has also appeared in Weird Tales, Chizine, and Beneath Ceaseless Skies, and anthologies such as The Book of Cthulhu 2 and The Best of Beneath Ceaseless Skies, Year One.
Broken Hero was published by Titan Books on January 26, 2016. It is 429 pages, priced at $14.95 in trade paperback, and $7.99 for the digital version. The cover was designed by Amazing15.