Clarkesworld 112 Now Available
Clarkesworld 112 Now Available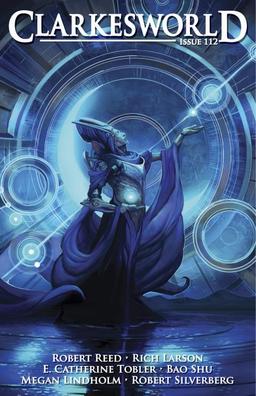 Neil Clarke uses his editorial this issue to announce the 2015 Reader's Poll and Contest. Vote for your favorite Clarkesworld story and cover art, and you could win one of three copies of Clarkesworld: Year Eight (publishing this month). Voting is open now through February 23rd, and the results will be announced in the March issue. Cast your votes here!
Issue #112 of Clarkesworld has four new stories by Robert Reed, E. Catherine Tobler, Rich Larson, and Bao Shu, and two reprints by Robert Silverberg and Megan Lindholm.
Short stories featured this issue are:
"The Algorithms of Value" by Robert Reed
"The Abduction of Europa" by E. Catherine Tobler
"Extraction Request" by Rich Larson
"Everybody Loves Charles" by Bao Shu
"The True Vintage of Erzuine Thale" by Robert Silverberg (from Songs of the Dying Earth: Stories in Honor of Jack Vance, 2009.)
"Old Paint" by Megan Lindholm (from Asimov's Science Fiction, July 2012)
And the non-fiction:
Our Future is Artificial by Sofia Siren
Painterly Cyborgs and Distant Horizons: A Conversation with Julie Dillon by Chris Urie
Another Word: Let's Write a Story Together, MacBook by Ken Liu
Editor's Desk: The 2015 Reader's Poll and Contest by Neil Clarke
We last covered Clarkesworld with Issue 111.
Clarkesworld is edited by Neil Clarke and Sean Wallace, and published by Wyrm Publishing. The contents are available for free online; individual issues can be purchased for $3.99, and monthly subscriptions are $2.99/month. A 6-month sub is $17.94, and the annual price is $35.88. Learn more and order individual issues at the magazine's website.
This issue's cover, "Hierophant," is by Julie Dillon.
See the complete issue here.
See our Late December Fantasy Magazine Rack here, and all of our recent Magazine coverage here.