Haunted Bushes, Serial Killers, and Mysterious Strangers: Algernon Blackwood's The Listener and Other Stories
Haunted Bushes, Serial Killers, and Mysterious Strangers: Algernon Blackwood's The Listener and Other Stories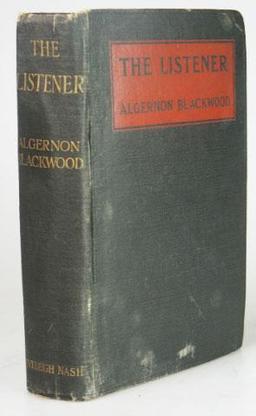 The Listener and Other Stories
By Algernon Blackwood
1907/1917
The Listener and Other Stories was Blackwood's second fiction collection. It was published a year after the first one, The Empty House and Other Ghost Stories. It contains "The Willows," a novella that's arguably one of his best known works and one whose reputation is well deserved. The rest of the collection doesn't come off quite as well as the previous one but it has some good moments.
"The Listener"
An understated story, as with so much of Blackwood's fiction. As the story progresses the narrator, who lives in a boarding house that isn't exactly the Ritz, has various odd experiences and seems to be coming apart at the seams. Well done, but for some reason it didn't really work for me.
"Max Hensig — Bacteriologist and Murderer"
No supernatural or weird content in this one but it's not a bad effort. Max Hensig is a sort of prototype of the Hannibal Lecter type of serial killer, who happens to like poisoning people. Plays out as a cat and mouse game between the killer and a reporter.
"May Day Eve"
Strange stuff here. A man takes a walk through the countryside to visit a friend. Along the way he meets a mysterious stranger, has his perceptions of the world around him altered and has some odd experiences. Aside from "The Willows," this gets my vote for best of the bunch.
"Miss Slumbubble — and Claustrophobia"
A not-so-likable woman with a host of hangups is excited to be going on her annual holiday in the mountains of Switzerland. Only to find out that getting there is half the battle, as she has an unusual experience while riding the train to her destination. Low-key, as with so much of Blackwood, but nicely done.
"The Dance of Death"
The title is taken literally. Well done, but not overly memorable.
2014 Combo edition (with The Empty House) from Stark House. Click for bigger images
"The Insanity of Jones"
I keep using words like understated and low-key to describe Blackwood's fiction. But not so much here. There are some downright gruesome moments in this tale of a clerk in an insurance office who doesn't get on well with his boss. He also feels that the boss has wronged him in a previous life and takes dramatic steps to rectify the matter.
"The Old Man of Visions"
Yet another example of Blackwood's use of literal titles. A story — though pretty much lacking in plot — of an old man who is apparently something of a mystic.
"The Willows"
You need considerable skill as a writer to take something as mundane as willow bushes and make them seem horrifying but Blackwood pulls it off quite nicely in this novella. "The Willow"s is a tale of a canoe trip down the Danube River, where the narrator and his companion ("the Swede") are subjected to assorted and sundry phenomena of a decidedly unsettling nature. Arguably one of the greatest works in a subgenre that one day came to be known as quiet horror.
"The Woman's Ghost Story"
Ghost story 101. Nothing much to see here.
---
William I. Lengeman III's last article for us was Star Trek Movie Rewatch: Star Trek II: The Wrath of Khan (1982). He holds forth at www.wileng3.com.