Future Treasures: City of Blades by Robert Jackson Bennett
Future Treasures: City of Blades by Robert Jackson Bennett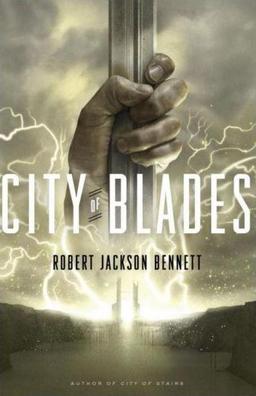 Robert Jackson Bennett's City of Stairs, the first volume in The Divine Cities, was nominated for the World Fantasy and British Fantasy Awards, and came in second for the Locus Award. That's a very impressive trifecta, and not something you see very often. Tor.com described it as "an atmospheric and intrigue-filled novel of dead gods, buried histories, and a mysterious, protean city," (and Peadar Ó Guilín called it "The best fantasy I've read so far this year. Great stuff"), and that's what first sparked my interest. The second volume, City of Blades, arrives next month, and I'm very much looking forward to it.
A generation ago, the city of Voortyashtan was the stronghold of the god of war and death, the birthplace of fearsome supernatural sentinels who killed and subjugated millions.

Now, the city's god is dead. The city itself lies in ruins. And to its new military occupiers, the once-powerful capital is a wasteland of sectarian violence and bloody uprisings.

So it makes perfect sense that General Turyin Mulaghesh — foul-mouthed hero of the battle of Bulikov, rumored war criminal, ally of an embattled Prime Minister — has been exiled there to count down the days until she can draw her pension and be forgotten.

At least, it makes the perfect cover story.

The truth is that the general has been pressed into service one last time, dispatched to investigate a discovery with the potential to change the world — or destroy it.

The trouble is that this old soldier isn't sure she's still got what it takes to be the hero.
City of Blades will be published by Broadway Books on January 26, 2016. It is 296 pages, priced at $15 in trade paperback and $9.99 for the digital edition.