Vintage Treasures: The Ring of Truth by David J. Lake
Vintage Treasures: The Ring of Truth by David J. Lake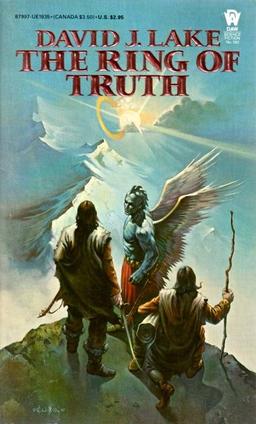 I don't know a darn thing about The Ring of Truth. I found it in a 14-book collection I bought on eBay around three bucks (the same set I found Croyd and Light a Last Candle in). It was published by DAW in 1984, has never been reprinted, and I've sure never seen it before. To tell the truth, I don't know anything about the author, David J. Lake, either. According to the ISFDB, he produced nine novels between 1976 and 1988, most of them published only in Australia.
But that's okay. Heck, I love a good literary mystery. Exploring the vintage paperbacks of this genre is an endless voyage of discovery. Who knows what undiscovered wonders, what secrets to the universe, lie hidden in these books? Nobody bug me for the next few hours while I find out.
Our cosmos, throughout its enormous length of galaxies, and down to its smallest molecules, obeys the same laws of physics and chemistry from one end to the other. But it is now suspected that somewhere in the vast reaches of space, there may well be other universes with completely different natural laws.

But even on these worlds, foreign beyond imagining, there may yet be great adventurers — alien Magellans and Columbuses whose thirst for exploration cannot be assuaged. Intelligent beings who would risk anything to know what lies over the horizon, beyond the parameters of the known world.

Travel now with Prince Kernin of Palur, just such an explorer in just such an alien universe, and discover wonders beyond imagining, in a world very different from our own, as he ventures to the ends of his earth and beyond to find the elusive Ring of Truth!
The Ring of Truth was published by DAW Books in June 1984. It is 192 pages, priced at $2.95. There is no digital edition. The cover is by Ken W. Kelly.