New Treasures: The Madness of Cthulhu, Volume Two, edited by S.T. Joshi
New Treasures: The Madness of Cthulhu, Volume Two, edited by S.T. Joshi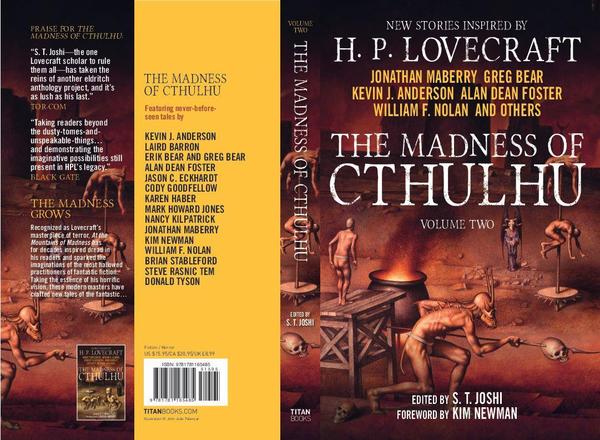 In his Black Gate review of the first volume of The Madness of Cthulhu, G. Winston Hyatt wrote:
Lovecraft's At the Mountains of Madness serves as the inspiration for many of the authors in The Madness of Cthulhu… it's masterful in concept and at times in execution. A fusion of Antarctic adventure, science fiction, and early-modern horror, it not only offers chilling passages with an escalating sense of dread and isolation, but also constructs a world horrifying in its implications about mankind…

The Madness of Cthulhu anthologizes a variety of interpretations of Lovecraft's Mythos, taking readers beyond the dusty-tomes-and-unspeakable-things tropes and demonstrating the imaginative possibilities still present in HPL's legacy.
Part of that review is quoted on the back of The Madness of Cthulhu, Volume Two, which is kind of cool. The second volume, which contains 14 brand new stories inspired by Lovecraft's classic At the Mountains of Madness — including stories by Laird Barron, Alan Deam Foster, William F. Nolan, Brian Stableford, and Steve Rasnic Tem — was published by Titan Books on October 20, 2015. It is 297 pages, priced at $15.95, and $5.99 for the digital edition. The cover is by John Jude Palencar. Click on the image above for a bigger version.