Vintage Treasures: The Joyous Invasions by Theodore Sturgeon
Vintage Treasures: The Joyous Invasions by Theodore Sturgeon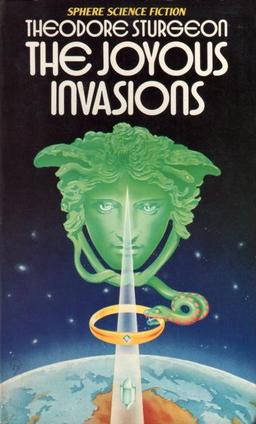 I've been gradually surveying the many collections of Theodore Sturgeon, one of the finest — some would say the finest — short story writers the field has ever seen. They're easy to obtain, and very inexpensive, although the vast majority have been out of print for over three decades.
Well, most of them are easy to obtain. There are a few exceptions, and one of them is The Joyous Invasions, a collection of three novellas that appeared only in the UK. I've been trying to find a copy since I first discovered it existed earlier this year, and I finally succeeded last week. Here's the description.
Alien Incursions

A tiny parasitic being whose task is to prepare humanity for an extra-terrestrial takeover. Its method: to make all dreams come true…

The ultimate sick TV show of the future — where the attractions are children struck down by a mysterious disease from outer space…

An alien field-expedition to Earth, which bases itself in a cheap boarding house — with weird and very unexpected results…

Here, together in one volume, are three stunning novellas by one of the giants of modern Science Fiction
The Joyous Invasion contains two of Sturgeon's most famous stories, and one I'd never heard of.
"To Marry Medusa" (Galaxy Science Fiction, August 1958)
"The Comedian's Children" (Venture Science Fiction Magazine, May 1958)
"The [Widget], the [Wadget], and Boff" (The Magazine of Fantasy and Science Fiction, November 1955)
Here's a quick look at the magazines the stories originally appeared in (click for bigger versions.)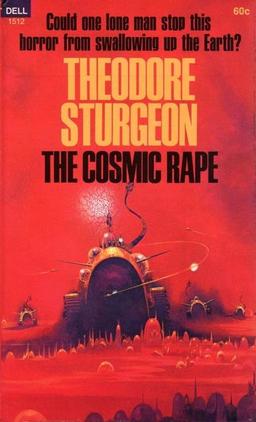 "To Marry Medusa" was expanded into the novel The Cosmic Rape in August 1958, and "The [Widget], the [Wadget], and Boff" was reprinted in A Treasury of Great Science Fiction, Volume One, which remained in print for decades. But this is the first time I'd encountered "The Comedian's Children" (although it was also heavily reprinted, in Judith Merril's SF: The Year's Greatest Science Fiction and Fantasy: 4th Annual Volume (1959), Aliens 4 (1959), Strange Tomorrows (1972), and other places.)
Our previous coverage of Theodore Sturgeon includes:
A Touch of Strange (1958)
Not Without Sorcery (1961)
Sturgeon in Orbit (1964)
Starshine (1966)
Sturgeon is Alive and Well… (1971)
To Here and the Easel (1973)
The Stars Are the Styx (1979)
As I mentioned, The Joyous Invasion can be tricky to find, at least in the US, but it's not particularly expensive. I bought a used copy in good condition on eBay for $2 last week.
The Joyous Invasion was published in hardcover in April 1965 by Gollancz, and reprinted in paperback by Sphere Books in October 1978. It is 187 pages, priced at £0.85. The cover is by Peter Tybus.
See all of our recent Vintage Treasures here.