A New Star Trek TV Series is in the Works
A New Star Trek TV Series is in the Works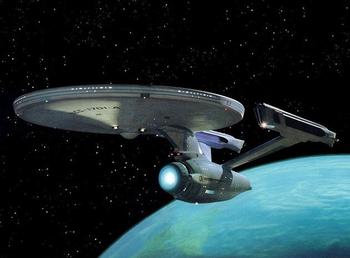 Hollywood Reporter is reporting that a new Star Trek TV series is in development, for broadcast in early 2017.
The new series will be the sixth live-action show to be based on Gene Roddenberry's original creation, which ran from 1966-67 on NBC. It will be produced by Alex Kurtzman, co-writer of the 2009 reboot Star Trek and its sequel Star Trek Into Darkness, for CBS Television Studios. It is scheduled to premiere in January 2017 with a preview episode on CBS, before it moves exclusively to CBS All Access, an on-demand and streaming service.
The new Star Trek will introduce new characters seeking imaginative new worlds and new civilizations, while exploring the dramatic contemporary themes that have been a signature of the franchise since its inception in 1966… A search is under way for a writer to take on the cult hit. The franchise is poised to celebrate its 50th anniversary as the original series debuted Sept. 8, 1966…

CBS TV Studios distributed the original series, which was produced by Paramount Television and Desilu Productions. Created by Gene Roddenberry and starring William Shatner and Leonard Nimoy, the series ran for three seasons and 79 episodes from 1966-67 on NBC and became a monster hit via syndication. It spawned an animated series (1973-74), a series of feature films — starting in 1979 — and four TV follow-ups including The Next Generation (1987-1994), Deep Space Nine (1993-99), Voyager (1995-2001) and Enterprise (2001-05).

News of a new Star Trek TV series comes as the franchise has been mired in rights issues between CBS and Paramount after Viacom merged with CBS in 2000. CBS Corp. absorbed Paramount for television, while Paramount Studios — the company that distributed the films — went to Viacom.
No news yet on what time frame the series will take place it, although it is reportedly not linked to the new movie franchise. Read the complete article here. (Hat tip to io9 for the news.)