New Treasures: In the Shadow of Edgar Allan Poe, edited by Leslie S. Klinger
New Treasures: In the Shadow of Edgar Allan Poe, edited by Leslie S. Klinger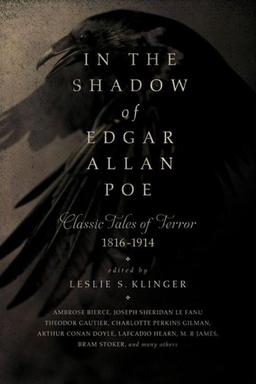 When I do my Vintage Treasures posts, I usually end up lamenting the fact that the book I'm profiling is out of print. You think I'd be used to it by now. Many of the titles that were New Treasures at the beginning of the year are out of print already. Even the most popular fantasy writers in our field — Bradbury, Simak, Kuttner, Asimov, Poul Anderson, and countless others — have fewer titles in print every year. So imagine what it means for a fantasy writer to be consistently in print for the past 165 years. It means a kind of genius that transcends generations. In the Shadow of Edgar Allan Poe: Classic Tales of Horror, 1816-1914 is a new anthology that collects a century of horror from authors whose contributions have been lost in the shadow of one of the finest fantasy writers who ever lived: Edgar Allan Poe.
Edgar Allan Poe did not invent the tale of terror. There were American, English, and Continental writers who preceded Poe and influenced his work. Similarly, there were many who were in turn influenced by Poe's genius and produced their own popular tales of supernatural literature. This collection features masterful tales of terror by authors who, by and large, are little-remembered for their writing in this genre. Even Bram Stoker, whose Dracula may be said to be the most popular horror novel of all time, is not known as a writer of short fiction.

Distinguished editor Leslie S. Klinger is a world-renowned authority on those twin icons of the Victorian age, Sherlock Holmes, and Dracula. His studies into the forefathers of those giants led him to a broader fascination with writers of supernatural literature of the nineteenth century. The stories in this collection have been selected by him for their impact. Each is preceded by a brief biography of the author and an overview of his or her literary career and is annotated to explain obscure references.

Read on, now, perhaps with a flickering candle or flashlight at hand…
In the Shadow of Edgar Allan Poe: Classic Tales of Horror, 1816-1914 contains stories by Ambrose Bierce, Joseph Sheridan Le Fanu, Theodor Gautier, Charlotte Perkins Gilman, Arthur Conan Doyle, Lafcadio Hearn, M. R. James, Bram Stoker, and many others. It was edited by Leslie S. Klinger and published by Pegasus on October 15, 2015. It is 320 pages, priced at $24.95 in hardcover, and $20.98 for the digital edition. The cover is by Faceout Studio/Charles Brock.