Vintage Treasures: Special Wonder, Volumes 1 & 2, edited by J. Francis McComas
Vintage Treasures: Special Wonder, Volumes 1 & 2, edited by J. Francis McComas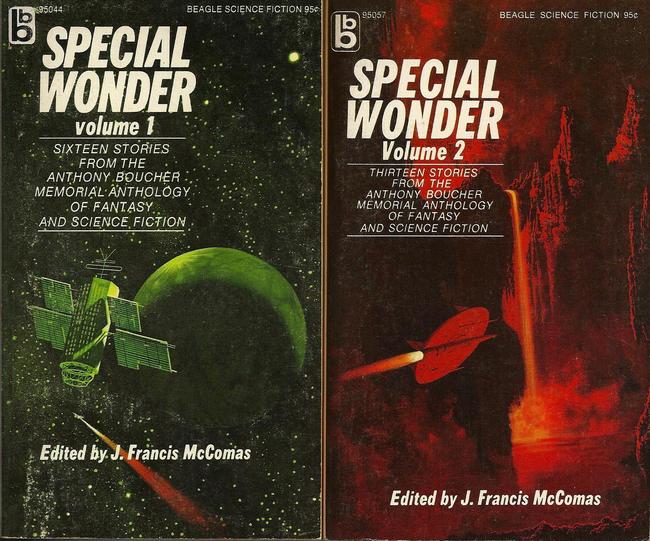 The Magazine of Fantasy & Science Fiction was founded in 1949 by Anthony Boucher and J. Francis McComas, who believed science fiction and fantasy could aspire to a literary niche far above the level of the pulp magazines of the 30s and 40s. With F&SF they succeeded brilliantly, launching a magazine with a discerning adult readership that published some of the best fiction of the 20th Century — and is still published today.
Anthony Boucher remained editor of F&SF from Fall 1949 to August 1958. After his death in 1968, McComas assembled a tribute anthology called Special Wonder, collecting stories from 29 of the top writers in the field. It was published in hardcover in 1970 by Random House, and then reprinted in paperback in two volumes in January and February of 1971 by Beagle Books (above). Special Wonder contained reprints that were "to Tony's taste," most of which had been published in F&SF, and in aggregate they provided a splendid representative sample of the kind of writing that Boucher sought out, nurtured, and made a home for in the field.
[Click on images to embiggen.]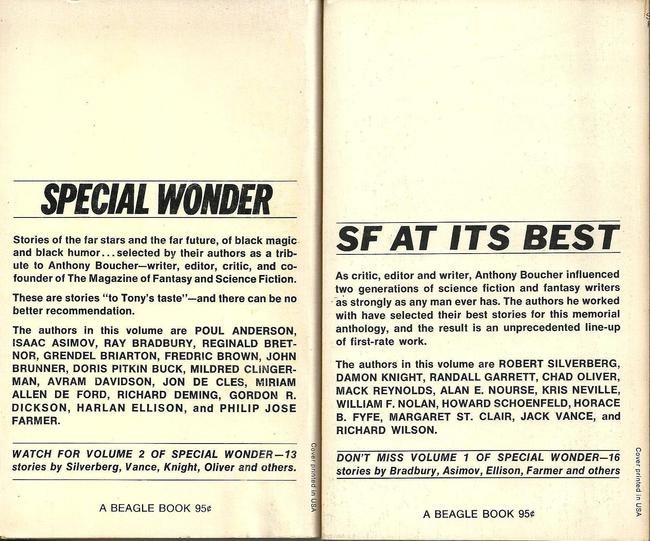 All the contributors to Special Wonder donated their stories, and the proceeds for the anthology were split between the Science Fiction Writers of America and Mystery Writers of America, two organizations Boucher was intimately involved with during his lifetime.
Special Wonder contains a marvelous section of stories, including a Lord Darcy novella by Randall Garrett, a Martian Chronicles story by Ray Bradbury, a Father Carmody novella by Philip José Farmer, a Ferdinand Feghoot tale by Reginald Bretnor — and one of my all-time favorite SF stories, Fredric Brown's chilling "Puppet Show."
It also contains a personal reminiscence about Boucher from each of the contributors, which helps give a sense of the profound impact he had on the field, as a writer, editor, and friend.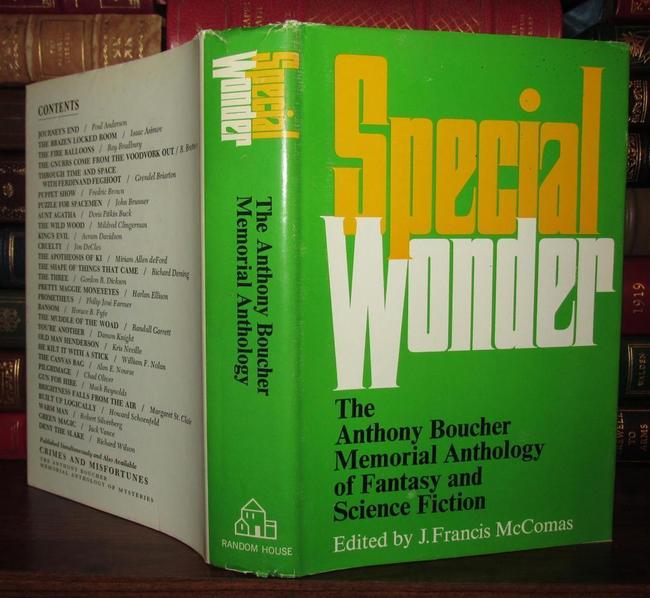 Here's the TOC for Volume One:
Introduction by J. Francis McComas
"Journeys End" by Poul Anderson (1957)
"The Brazen Locked Room" by Isaac Asimov (1956)
"The Fire Balloons" by Ray Bradbury (1951)
"The Gnurrs Come from the Voodvork Out" by Reginald Bretnor (1950)
"Through Time and Space with Ferdinand Feghoot" by Reginald Bretnor (1956)
"Puppet Show" by Fredric Brown (1962)
"Puzzle for Spacemen" by John Brunner (1955)
"Aunt Agatha" by Doris Pitkin Buck (1952)
"The Wild Wood" by Mildred Clingerman (1957)
"King's Evil" by Avram Davidson (1956)
"Cruelty" by Jon DeCles (1970)
"The Apotheosis of Ki" by Miriam Allen deFord (1956)
"The Shape of Things That Came" by Richard Deming (1951)
"The Three" by Gordon R. Dickson (1953)
"Pretty Maggie Moneyeyes" by Harlan Ellison (1967)
"Prometheus" by Philip José Farmer (1961)
And for Volume Two:
"Ransom" by H. B. Fyfe (1952)
"The Muddle of the Woad" by Randall Garrett (1965)
"You're Another" by Damon Knight (1955)
"Old Man Henderson" by Kris Neville (1951)
"He Kilt It with a Stick" by William F. Nolan (1968)
"The Canvas Bag" by Alan E. Nourse (1955)
"Pilgrimage" by Chad Oliver (1958)
"Gun for Hire" by Mack Reynolds (1960)
"Brightness Falls from the Air" by Margaret St. Clair (1951)
"Built Up Logically" by Howard Schoenfeld (1949)
"Warm Man" by Robert Silverberg (1957)
"Green Magic" by Jack Vance (1963)
"Deny the Slake" by Richard Wilson (1957)
Special Wonder has been out of print for over 40 years, and there is no digital edition. However, the hardcover edition sells online for around $5 and up, and the paperbacks for much less.
See all of our recent Vintage Treasures here.