Goth Chick News: Christmas at Beetlejuice's House – Midnight Syndicate Does It Again
Goth Chick News: Christmas at Beetlejuice's House – Midnight Syndicate Does It Again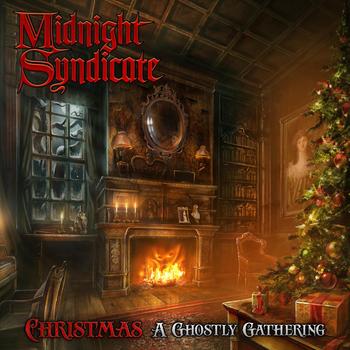 As you are all likely aware by this point, I go all fan-girl when it comes to my goth-boy-band crush, Midnight Syndicate.
From way back when they were providing the soundtrack to the Playboy Mansion's Halloween bashes to the music they produced for movies like The Dead Matter, I've hung on their every note; and no fantasy game night or Halloween season would be complete without them.
So when Ed Douglas contacted me to say Midnight Syndicate had recently completed something really special that would be right down my under-lit, cob-webby alley, I promptly began stalking the mail carrier until the package arrived.
And once again, the boys deliver – in a wonderfully different and unexpected way.
A Christmas album.
Yes, you read that right. Midnight Syndicate has just released Christmas: A Ghostly Gathering.
How, oh how to describe this to you?   Let's just say that if Beetlejuice invited you over to the Maitlands for a holiday Zagnut, he'd be playing this collection on all speakers.
Midnight Syndicate has taken your favorite holiday tunes and added in their unique mixture of dissident chords, eerie harmonics and original craftsmanship to deliver charmingly haunting fare that will take you from October straight through December.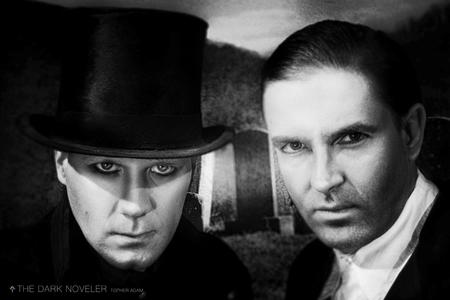 I've listened to the whole thing twice and I honestly love every track though I'm very partial to the boys' take on Dance of the Sugar Plum Fairy and Coventry Carol. Evoking the slightly spooky elements of a Victorian Christmas night (ala A Christmas Carol) this collection is best listened to in a darkened room, lit only by a Christmas tree, while seated in an oversized leather chair which smells faintly of a pipe, while clutching a steaming adult beverage.
Says Ed and Gavin:
Our goal was to treat each song in a way that would merge familiarity with originality. There are definitely recognizable elements, but plenty of additional original material as well. It also incorporates the widest instrument palette we've used to date and represents what we consider to be the most varied collection of songs we've ever released. There are serenely beautiful moments here alongside more intense darker tracks, and the end result is a thoroughly compelling and involving listening experience.

With so many Christmas-themed albums out there, we wanted to make this collection uniquely our own. I think we were able to do that.
I do as well. Very nice job gents.
Midnight Syndicate's latest album Christmas: A Ghostly Gathering is available now at the website where you can also listen to sample tracks. Have a question or comment? Post it here or drop a line to sue@blackgate.com.