SeptOberFright 4: Gene Luen Yang on His First Night Terror: The Headless Bride
SeptOberFright 4: Gene Luen Yang on His First Night Terror: The Headless Bride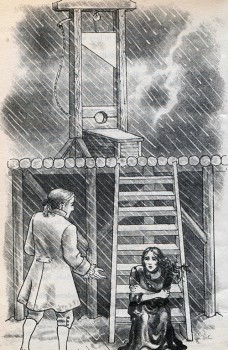 An ongoing theme that arises when I write about horror entertainment is that of tackling the perennial question: Why do we like it so much? And then there is the related question of what possible benefits horror stories might impart.
For this week's SeptOberFright installment, I'd like to share another voice addressing that idea of horror as healthy. Gene Luen Yang writes Avatar: The Last Airbender — Smoke and Shadow for Dark Horse comics, and he contributed the June 2015 installment of "Horsepower," the editorial that runs in Dark Horse comic books each month. I came across it in the back of Buffy the Vampire Slayer Season 10 issue 16.
Like many others who have given the question "Why horror?" any thought, Yang suggests that horror stories help prepare us for the truly scary things in life. What makes his take particularly fun is his anecdote about his own first encounter with a horror story. To read Yang's anecdote, which comprises the first five paragraphs of the editorial, click on "Read More" below. For the complete column (in which he goes on to discuss his work with artist Gurihiru on Avatar), hunt down any June 2015 Dark Horse comic book (I'm not sure if these are archived online somewhere, but a quick Google hunt yielded no results).
Gene Luen Yang

As a kid, I hated scary stories.

When I was in second grade, our teacher read a ghost story to us for Halloween. I don't remember much about the beginning or the middle, but I do remember the end. A beautiful young bride takes off her lace choker in front of her new husband. Her head topples off her body and rolls down the staircase.
[Editorialus Interruptus: Sounds like a variation of the classic "headless bride" legend, the most famous version being Washington Irving's "The Adventure of the German Student." — Oz]
I think the tone was supposed to be darkly humorous; many of my classmates giggled. I did not. For weeks afterward, I stayed up nights watching that young woman's head bounce from one step to the next in my mind.

When my parents brought it up at a parent-teacher conference, I wanted to hide beneath my chair. After all, no kid wants his night terrors discussed in public. My father asked, "What's the point of telling these sorts of stories in school when the time could be better spent on more practical subjects?"

I'm not sure what my teacher's answer was, but had adult me been in the room, I would've been able to help her out. We tell stories to our children to prepare them for life, and unfortunately parts of life are just plain scary.

A story can give its reader a safe arena in which to work out her fears. When a story's hero steels her courage to face some slimy, undead monster, we learn to do the same in facing our own tragedies.
Amen. I concur, Gene — although I don't think that's the whole story, or the only answer to "Why horror?" There will be plenty more to talk about in future posts. See you all next week — if you don't lose your heads.