Conan is My Spirit Guide
Conan is My Spirit Guide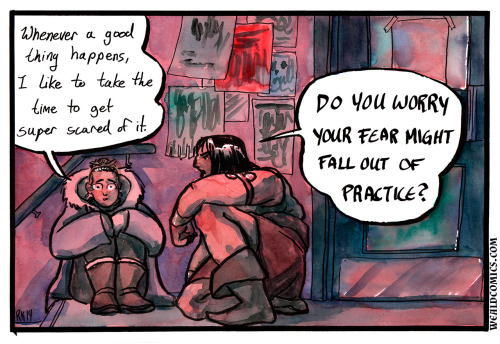 What if Conan were your spirit guide?
It's such a lovely high concept and the implicit conflict — modernity versus barbarity — gives it instant viral appeal for those in the know (a bit like, I hope, Swords Versus Tanks). It also pings that contrast we Blackgate folk all experience: reading heroic fantasy on the way to a desk job, pausing Halo to change a diaper, leaving off writing a fight scene to print off My Little Pony coloring in sheets.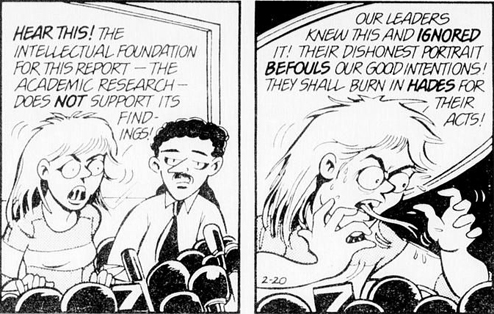 So I clicked the link and found the tumblr (now mostly gone because the comic has been published). I was expecting the hilarity of Doonesbury's Boopsie channelling Hunk Ra. Instead I got something different. Just as funny, but deeper laughs and some profound thoughts about modernity and why we still need Conan.
Rachel Kahn, the creator of Conan is My Spirit Guide, By Crom! is a real Conan fan and the joke is always on the modern character.
Kahn's Conan is the uncomfortable truth teller — your dating strategy sucks! — sees the contradictions in modern society — coffee shops as cosy places to be comfortably awake, for example — and is perplexed by modern obsessions, noting "no tactical distinction" between different body lotions.
His own obsessions are comically out of kilter as well;  museums are armouries (but that's normal, right?), and high places are defensive positions.
All very LOL.  (And reader, I did indeed ROFL when I first found the web comic.)
However, put all these together and you get something more profound.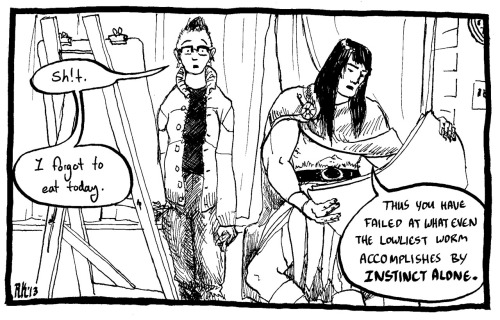 Kahn's Conan is the authentic Howard Conan,  not the pastiche, nor the movie caricature (nor Hunk-Ra).
Conan is a survivor. For him forgetting to eat is a monumental failure. His pragmatism supports his survival, but in its own right will dismisses artistic angst out of hand (he's playing my tune) and demand purposeful action.
Coming from the harsh Hyborian Age Conan is also a hedonist — take your pleasures when you can and stop second guessing yourself. Meanwhile his primitive honor has existential underpinnings; "An enemy unchallenged may think you are an ally."
When reading the rollicking Howard stories we rarely stop to distinguish action from reaction, so by wrenching him from his context, Kahn reveals Conan's  personality: all about raw personal authenticity, the kind you achieve by acting rather than angsting… making, rather than purchasing… travelling to, rather than importing from.
This is a Conan who is still relevant today and perhaps explains why we keep coming back to the originals.
In revealing Conan, Kahn also seems to reveal Robert E. Howard, who famously, much like Boopsie did Hunk-Ra, channelled the barbarian as he wrote.
It's all too easy to treat a character as a creator's Mary Sue, to see the competent, virile, Conan, note that Howard was basically a nerdy Walter Mitty with an inconclusive romantic history who monitized his rich fantasy life… and then to move on. After all, what wisdom can a man offer who cannot survive the death of his mother?
And, I think that's a mistake.
Conan makes sense not so much as Howard's alter ego but as his own "spirit guide", just like in Conan is My Spirit Guide, By Crom!
The point about spirit guides — imaginary or not — is they are aligned with you, but they are not you. Sure, we aspire to some of what they have (and I wish I could fight like William Marshal could), but mostly they are the wise friend we'd like to have to drag us out of our self-dug pits.
So the Conan that Howard gave us was the Conan he — we — needed, and that self-knowledge makes his death all the more tragic and Conan all the more special. Perhaps what Howard lacked was not wisdom, but the instant literary community of the Internet?
---
M Harold Page (www.mharoldpage.com)  is currently launching his Steampunk versus Sword and Sorcery Pitfight old-school Heroic Fantasy serial, Swords Versus Tanks (you know you want to click through to see the cover). You can also buy his action-packed Dark Age adventure,  Shieldwall: Barbarians! (Epub) and his Storyteller Tools (Epub), which will help you plan and write your own tales of wild adventure.