The Golden Age of Horror Seems to be Progressing Well: The Best Horror of the Year: Volume Seven
The Golden Age of Horror Seems to be Progressing Well: The Best Horror of the Year: Volume Seven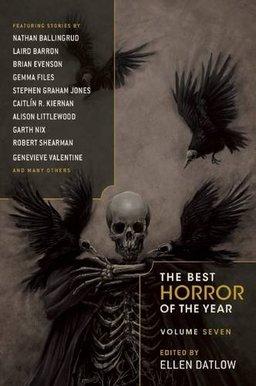 Last year when I reviewed The Best Horror of the Year: Volume Six, I said that volume gave confirmation that we are currently living in a golden age of horror fiction, especially in short stories. This year's The Best Horror of the Year: Volume Seven shows that this age is thankfully not ending for the foreseeable future.
As with the former editions, the seemingly inexhaustible Ellen Datlow had edited this volume. Among her many, many awards includes a very recent Bram Stoker for her horror anthology Fearful Symmetries, released last year. If you're not familiar with any of Datlow's anthologies they are (in my humble opinion) the gold standard of horror fiction. Datlow knows a good story!
As with previous editions, The Best Horror of the Year: Volume Seven showcases a plurality of different kinds of horror stories and styles, from old-fashioned supernatural yarns and psychological horror to Crypt-Keeper-style revenge tales. As I usually say in my review of anthologies, I'm not a fan of every story within, but each story here is without a doubt superbly written and executed.
This volume includes the usual horror "superstars" along with some very talented new blood. What I'm calling horror "superstars" are those few horror writers who unsurprisingly make regular reappearances in many of horror's year's best anthologies. In this volume this includes Nathan Ballingrud with his creepy tale "The Atlas of Hell," about a mob boss seeking to track down a supposedly occultic book in the swamps of Louisiana, a "book" that turns out to be much more than bargained for. Ballingrud always has a very unique take on horror and this horrific story is no disappointment.
Another "superstar" reappearance is Caitlín R. Kiernan who gives us "Interstate Love Song (Murder Ballad No. 8)," a road trip story concerning two women riding a fast track of sex, drugs, torture and murder throughout truck stops and cheap motels. Kiernan is clearly an excellent, excellent writer and I found this story hypnotically alluring, which is surprising given that I'm not a fan of psychopath or slasher stories.
Other notable reappearances include Laird Barron, Stephen Graham Jones, and John Langan, all three of which are constant names in many horror anthologies these days. In this volume Barron's "the worms crawl in" [non-caps intended] is an excellent revenge-twist sort of tale, and Jones' "Chapter Six" is a disturbing yet interesting new take on the worn out zombie genre. Langan's "Ymir" is a tale of mounting fright set in Laird Barron's universe, first appearing in a tribute anthology to Barron last year.
A horror writer whom I've heard a lot about is Brian Evenson. To my memory, I've only read one of his stories, "The Brotherhood of Mutilation" in Ann and Jeff VanderMeers' edited massive anthology The Weird. I don't remember that story making a huge impression on me at the time. But his "Past Reno" in this volume was quite haunting. It has something of a Twilight Zone feel to it. It's about a guy driving to collect his inheritance from his recently deceased father. Once he leaves California and gets past Reno, things become strange and inexplicable — again, a very haunting tale.
I'd heard of Garth Nix in relation to fantasy and YA fiction, but his horror tale "Shay Corsham Worsted" was really unique and scary. It's part hokey British espionage with some subtle humor. But the menace within is fairly terrifying, and the story has a weird ending that leaves you with various questions, but not leaving you unsatisfied — a difficult effect to pull off!
All of these stories by horror "superstars" and well-known authors are very good. I always enjoy reading new stories by great authors I'm already familiar with. But what makes any anthology a real treat is coming across really good stories by authors you're not very familiar with. Datlow's horror anthologies never fail me in this respect. The Best Horror of the Year: Volume Seven has some real gems by authors I had never heard of.
For instance, "Wingless Beasts" by Lucy Taylor was very riveting. It's hard to describe this one. It's partly a revenge story, part supernatural, and part trippy. It's about a guy who seems to lure people into the dessert for some nefarious end. I'm not sure that I understood the ending. But nevertheless, the buildup was very interesting. Taylor had me within the first couple of pages.
Though more of a thriller, Angela Slatter's "Winter Children" was also a very good story, another revenge tale with some possible supernatural elements. Slatter's characterization keeps you engrossed as you begin to see the histories of the characters played out as motivations for their actions. The ending is surprising.
I think by far my favorite tale was "Outside Heavenly" by Rio Youers. The story begins (and proceeds for most of the tale) like a police procedural. A strange crime has been committed in the small town of Heavenly and along with the main character, a local police chief, we're trying to figure out what actually happened. As details emerge, things become stranger and stranger. I felt the ending of this story missed the target a bit. But the buildup, which is most of the story, was outstanding. It really made the hairs on the back of my neck stick up. It also has some very heartfelt characterizations showing that horror need not be supernatural in order to be horrific.
It seems that the golden age of horror is progressing quite well.
The Best Horror of the Year: Volume Seven will be published by Night Shade Books August 18, 2015. It is 400 pages and retails for $15.99 for both the paperback and digital editions.