Future Treasures: Cthulhu Fhtagn!, edited by Ross E. Lockhart
Future Treasures: Cthulhu Fhtagn!, edited by Ross E. Lockhart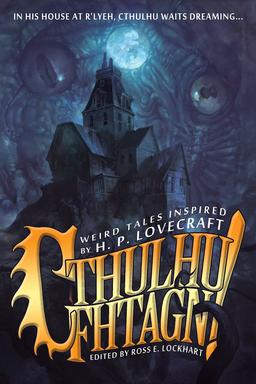 Ross E. Lockhart has edited some of my favorite Cthulhu anthologies, including the terrific The Book of Cthulhu and The Book of Cthulhu II. When he left Night Shade Books he founded Word Horde, which has produced some excellent books over the past year — including The Children of Old Leech, the genre-bending anthology Giallo Fantastique, and Molly Tanzer's novel Vermilion.
His newest project is Cthulhu Fhtagn!, featuring 19 original weird tales inspired by H. P. Lovecraft, available in trade paperback and digital format next week.
In his house at R'lyeh, Cthulhu waits dreaming… What are the dreams that monsters dream? When will the stars grow right? Where are the sunken temples in which the dreamers dwell? How will it all change when they come home?

Within these pages lie the answers, and more, in all-new stories by many of the brightest lights in dark fiction. Gathered together by Ross E. Lockhart, the editor who brought you The Book of Cthulhu, The Children of Old Leech, and Giallo Fantastique, Cthulhu Fhtagn! features nineteen weird tales inspired by H. P. Lovecraft.
Cthulhu Fhtagn! will be published by Word Horde on August 15, 2015. It is 330 pages, priced at $19.99 in trade paperback and $9.99 for the digital edition. The cover is by Adolfo Navarro.
See all of our coverage of the best upcoming fantasy releases here.