July 2015 Issue of Outposts of Beyond Now on Sale
July 2015 Issue of Outposts of Beyond Now on Sale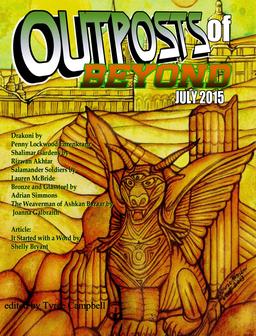 I heard some reports of a new magazine a few weeks ago, and finally had a moment to investigate this morning. The magazine is Outposts of Beyond, and it has published eight issues since its debut in July 2013 — meaning I'm late to the party. The magazine is edited by James Tiptree Award nominee Tyree Campbell, author of the Nyx series and Tree Hugger, and published by Alban Lake, publishers of Aoife's Kiss and Disturbed magazine. Here's the general description:
Outposts Of Beyond features science fiction and fantasy tales of elsewhere and elsewhen. These stories are seasoned to taste with just a touch of related poetry, and interspersed with reviews, interviews, and articles related to the genres. We hope you'll come along for the journey.
I find their Submission Guidelines interesting:
Outposts of Beyond publishes original science fiction and fantasy short stories, poems, art, articles, reviews, and interviews. Preferred are adventure stories, space opera, and magic opera [like space opera, but fantasy]. Also preferred are stories that take place on other worlds. Stories must have the following: characters the reader cares about, plots and subplots, and settings that draw the reader into them. Must have.
I've never heard of "Magic opera" before, but the description seems intuitive enough. And I like the emphasis on interesting settings.
The latest issue has fiction by Adrian Simmons, Beth Powers, Tyree Campbell, and others. Here's the complete TOC.
Short Stories
"Drakoni," by Penny Lockwood Ehrenkranz
"The Boy Who Loved Ocean," by Tyree Campbell
"Retirement," by Beth Powers
"Of Feather and Claw," by Jason Lairamore
"The Weaverman of Ashkan Bazaar," by Joanna Galbraith
"Rewrites," by Shelly Bryant
"Bronze and Glassteel," by Adrian Simmons
Flash Fiction
"Salamander Soldiers," by Lauren McBride
Poetry
"Shalimar Gardens," by Rizwan Akhtar
"The Reluctant Star," by Shawn Vimislicky
"Nebula's Offspring," by Christopher Collingwood
"From Seven Suns to Six Moons," by Shawn Vimislicky
"The Turvy Mirrors," by Ruth Berman
"Command Decision,"b y Lisa Timpf
Features
"It Started with a Word," by Shelly Bryant
Illustrations
"Lost World," by Vonnie Winslow Crist
"The Boy Who Loved Ocean," by Laura Givens
See the complete issue at Smashwords here.
Outposts of Beyond is published quarterly by Alban Lake Publishing in January, April, July, and October. It is  full-sized, perfect-bound magazine, 8 1/2 by 11, with color covers and b&w interior. Individual issues are $8.00; one year subscriptions are $35, or $62 for two years. The digital version is just $3.99, and is sold through Amazon and Barnes & Noble, and is also available in a variety of electronic formats (epub, mobi, pdf, rtf, lrf, pdb, txt, and html) at Smashwords. Order subscriptions here.
See our August Fantasy Magazine Rack here, and all of our recent Magazine coverage here.