Future Treasures: The Heart of Betrayal by Mary E. Pearson
Future Treasures: The Heart of Betrayal by Mary E. Pearson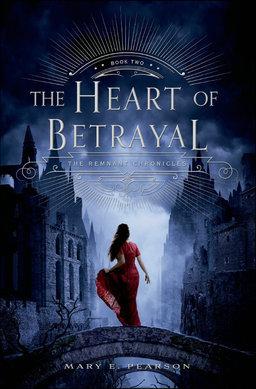 The first time I encountered Mary E. Pearson was with her short story "The Rotten Beast" at Tor.com. Her first fantasy novel, The Kiss of Deception, was published by Henry Holt last year, and called "a wonderfully full-bodied story: harrowing, romantic, and full of myth and memory… this has the sweep of an epic tale," (Booklist), and Publishers Weekly said "the novel has a formidable heroine at its core, who is as quick with a knife as she is to laugh or cry… [a] masterfully crafted story." The Heart of Betrayal, the second volume in The Remnant Chronicles, will be released next week, and it continues the tale of 17-year-old princess Lia.
Held captive in the barbarian kingdom of Venda, Lia and Rafe have little chance of escape… and even less of being together.

Desperate to save her life, Lia's erstwhile assassin, Kaden, has told the Vendan Komisar that she has a magical gift, and the Komisar's interest in Lia is greater than either Kaden or Lia foresaw.

Meanwhile, the foundations of Lia's deeply-held beliefs are crumbling beneath her. Nothing is straightforward: there's Rafe, who lied to her, but has sacrificed his freedom to protect her; Kaden, who meant to assassinate her but has now saved her life; and the Vendans, whom she always believed to be barbarians but whom she now realizes are people who have been terribly brutalized by the kingdoms of Dalbreck and Morrighan. Wrestling with her upbringing, her gift, and her very sense of self, Lia will have to make powerful choices that affect her country, her people… and her own destiny.
The Heart of Betrayal will be published by Henry Holt and Co. on July 7, 2015. It is 480 pages, priced at $18.99 in hardcover and $9.99 for the digital edition.