June 2015 Nightmare Magazine Now on Sale
June 2015 Nightmare Magazine Now on Sale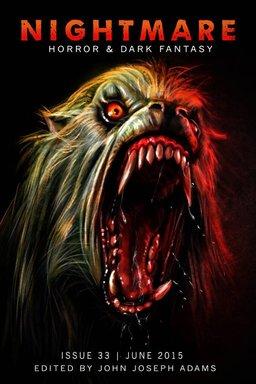 The June issue of the online magazine Nightmare is now available.
Fiction this month includes original short stories from Maria Dahvana Headley and Dale Bailey, and reprints from Kaaron Warren and Stephen Graham Jones:
Original Stories
"The Cellar Dweller" by Maria Dahvana Headley
"Snow" by Dale Bailey
Reprints
"The Changeling" by Sarah Langan (originally published in Creatures: Thirty Years of Monsters, September 2011)
The Music of the Dark Time" by Chet Williamson (Originally published in The Twilight Zone Magazine, June 1988)
The non-fiction this issue includes the latest installment in their long-running horror column, "The H Word" ("Why Do We Read Horror?"), plus author spotlights, a showcase on cover artist Okan Bülbül, an editorial, and a feature interview with Lucy A. Snyder.
Editorial, June 2015
The H Word: Why Do We Read Horror?
Artist Showcase: Okan Bülbül
Interview: Lucy A. Snyder
See the complete contents of the issue here.
Nightmare is edited by John Joseph Adams. This is the 33rd issue. Subscriptions are available for just $1.99 per issue, single issues are available in multiple digital formats for $2.99. Purchase copies and sample free content at the website. The cover this month is by Okan Bülbül.
We last covered Nightmare with the May 2015 issue.
See our mid-June Fantasy Magazine Rack here, and all of our recent Magazine coverage here.