Apex Magazine #73 Now on Sale
Apex Magazine #73 Now on Sale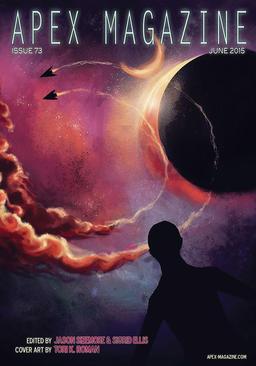 Editor Jason Sizemore offers this intriguing summary of the short fiction in Apex this month, in his editorial:
The three original works we have for you this month all address a similar subject in three different ways: interconnectivity and privacy… In Alex Livingston's "Proximity," in what I would call a 'data caper' in the mold of Ocean's Eleven, we follow a group of metadata thieves as they face a life or death situation in a major information heist. Mari Ness explores the danger of becoming so reliant on an 'internet of things' that we lose control of our lives. Finally, DJ Cockburn writes a cautionary tale of the dangers of living in a world of heightened technology where our body is currency and our information is readily accessible to the clever. After reading these three works, I think I should make room for all of us in the official Apex Publications off-the-grid bunker.
The June issue of Apex contains three pieces of original fiction and a reprint by Malon Edwards — plus poetry, an article on "Building Book Events to Build Community in SFF" by Tor Associate Publicist Ardi Alspach, two novel excerpts (Flex by Ferrett Steinmetz, and The Venusian Gambit, Book Three of the Daedalus series by Michael J. Martinez), Charlotte Ashley's short fiction reviews, a podcast, and much more.
Here's the complete TOC.
Fiction
"Inhabiting Your Skin" by Mari Ness
"Proximity" by Alex Livingston
"Foreclosure" DJ Cockburn
"Mud Holes and Mississippi Mules" by Malon Edwards (eBook/subscriber exclusive)
Poetry
"Entrance" by Laura Madeline Wiseman
"Peach Baby" by Bethany Powell
"Interview" by John W. Sexton
Nonfiction
"Words from the Editor-in-Chief" by Jason Sizemore
"Building Book Events to Build Community in SFF" by Ardi Alspach
"Apex Author Interview with Mari Ness" by Andrea Johnson
"Apex Cover Artist Interview with Tori K. Roman" by Russell Dickerson
"Clavis Aurea: A Review of Short Fiction" by Charlotte Ashley
Podcast #23
"Inhabiting Your Skin" by Mari Ness  (23:47 minutes)
Apex Magazine is a monthly science fiction, fantasy, and horror publication featuring original short stories, poetry and non-fiction. It is edited by Jason Sizemore and Sigrid Ellis, and released the first Tuesday of every month. In 2012, 2013 and 2014, it was nominated for a Hugo Award for Best Semiprozine.
We previously covered Apex Magazine with issue 72.
Apex Magazine is published by Apex Publications. Issues are available free online, and sold for $2.99 in a variety of digital formats. Subscriptions are just $19.95 for one year (12 issues) in EPUB, Mobi, and PDF formats.
This issue's cover is by Tori K. Roman. The complete issue is here, and you can buy back issues or subscribe at their website.
Our mid-June Fantasy Magazine Rack is here. See all of our recent magazine coverage here.