Future Treasures: The Iron Assassin by Ed Greenwood
Future Treasures: The Iron Assassin by Ed Greenwood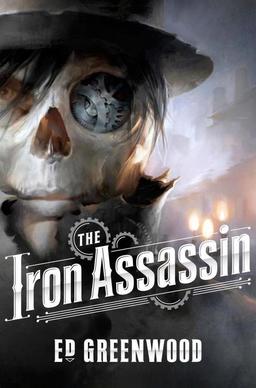 Ed Greenwood is one of the hardest working writers in the business. He's perhaps best known as creator of the Forgotten Realms, the most popular D&D setting, but that's just the tip of the iceberg of his creative output. In addition to his impressive contributions to gaming, he's also written some three dozen Forgotten Realms novels, a Pathfinder Tales novel, the Niflheim series, and the best-selling Band of Four series from Tor Books, among many others.
His newest novel is a steampunk thriller set in London, featuring loyal agents of the crown, the Ancient Order of the Tentacles, and a clockwork-enhanced corpse sent to assassinate the Prince Regent…
Victoria has ascended the throne — several times in various new bodies. It is a time of gas lamps and regularly scheduled airship flights, of trams and steam-driven clockwork with countless smoke-belching stacks. In filthy, crowded, fast-growing London, the capital of the Empire of the Lion, a series of shocking murders threatens the throne itself.

Jack Straker, Lord Templeton, the energetic young inventor and Dread Agent for the Crown, believes he has created a weapon to defend the Prince Regent: a reanimated, clockwork-enhanced corpse he can control. But members of the Ancient Order of the Tentacles have other plans for the "Iron Assassin."

Together with his friend Mr. Bleys Hardcastle and the recently recruited Dread Agent Rose Gordhammond, Lady Harminster, Jack must outwit the Ancient Order and regain control of his invention before they can assassinate the Prince Regent.
The Iron Assassin will be published by Tor Books on June 9. It is 320 pages, priced at $25.99 in hardcover and $12.99 for the digital edition. The cover is by Cynthia Shepard.