Ancient Worlds: Caenis, Caeneus, and the Aftermath of Rape
Ancient Worlds: Caenis, Caeneus, and the Aftermath of Rape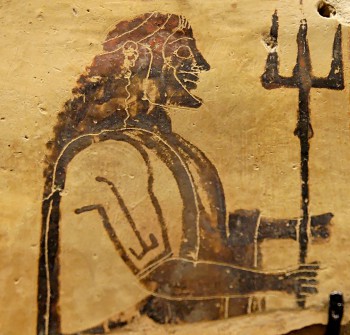 Sometimes a planned topic and the news intersect in unexpected ways. I had planned for some time to cover this particular episode in Ovid, but this week's decision by The Mary Sue to discontinue active promotion of Game of Thrones gives it a relevance that we in the Classics don't usually get to experience. I'll link to The Mary Sue's explanation of their decision here, but the short version is that they were no longer interested in promoting a show that made such regular use of rape as a storytelling device. A heated debate has ensued in several quarters, over The Mary Sue's decision, the show in question, and over the portrayal of sexual assault in fiction.
This is by no means a new debate. Rape has been, sadly, part of human experience for as long as we have had storytelling. Its presence in the earliest works we have in the canon attests this fact. What has varied is how it is portrayed, both in terms of the act itself and its lasting effect on both its victims and society at large. The myth of the Rape of Persephone is used to explain the seasons; the Roman Historian Livy tells us that the expulsion of the kings of Rome was triggered by the devastating aftermath of the rape of Lucretia.
But no artist spent as much time investigating the lingering effects of rape like Ovid. The Metamorphoses is filled with stories of rape and familial sexual abuse, and the author doesn't shy away from any of it. But that doesn't mean he lingers over it, either: he depictions of assaults are vivid but never graphic. And unlike many modern depictions he doesn't spend much time on the assaults themselves. What Ovid chooses to focus on is the long term ramifications of sexual violence, the way it shapes lives, families, destinies, and the landscape itself (remember Apollo and the Laurel tree?).
The first of the stories in this vein that I want to discuss is that of Caenis/Caeneus. (The other, that of Medusa, we'll tackle next week.) Caenis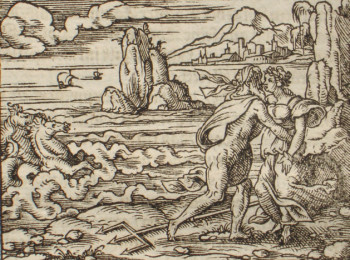 was born in Thessaly, the daughter of one of the Lapith chieftans. One day Caenis was walking on the beach when she was spotted by Neptune. As we have previously discussed, getting noticed by the gods leads universally to bad things, and this case is no different. Neptune saw her, wanted her, and raped her, and afterwards he offered her one wish.
She, understandably, asked that he make it so that she could never be raped again.
Ovid's storytelling here is ingenious and what makes it even more stunning is that this is, as far as I am aware, the first time in Greek myth that we hear the victim speak for herself.  And when she speaks she not only accuses the god of harming her in a way that is particularly cunning but also shows the presence of mind to defend herself in the future.
Neptune responds by making Caenis a man. Then he does one better. He makes Caenis, now Caeneus, completely impenetrable. Caeneus cannot be stabbed, cut, shot: he is utterly invulnerable. And here Ovid is masterfully straddling the line between story and metaphor. You don't have to be Freud to appreciate the way he smears the lines between sex and violence in the ancient world or to appreciate the immense justice in Neptune's "gift" to his victim. It is in some ways even an acknowledgement of wrongdoing on the god's part, another unprecedented act.
Caeneus then goes on to become one of the greatest warriors of his age, until he is at last killed by being crushed under a mountain of trees during the war between the Lapiths and the Centaurs.
What makes this story so powerful and, I think, so important for writers today is the way in which Ovid takes Caenis' rape and makes it a critical turning point in the character's life. But rather than making the rape itself the focus of Caeneus' identity, this story is about the new identity that he forges for himself in the rape's aftermath. In this way, Ovid does not minimize rape, but it isn't sensationalized either. This is a valuable distinction. It is also one that a lot of genres are struggling with today.
This isn't the only kind of aftermath Ovid portrays, however. Next week we will take a look at a far more bloody series of consequences when we discuss the history of Medusa.