Black Gate 4 is Sold Out
Black Gate 4 is Sold Out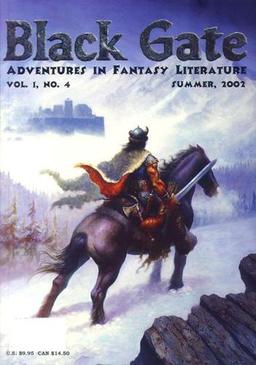 Black Gate 4, originally published in Summer 2002, is now sold out.
BG 4 featured the start of a major fantasy series from Hugo Award-winning author Bill Johnson, a new novelette from David B. Coe, and fiction from Cory Doctorow, Tina Jens, Mark McLaughlin, Patrice Sarath, Keith Allen Daniels, and many others. The terrific cover art was by Charles Keegan. Here's the issue summary:
A Chicago pub where the ghosts of Blues legends gather to swap tales and jam one final time… a post-apocalyptic cityscape where automated bombers still cruise overhead and the last rock band hears the sound of extinction… a wild west where a trio of demons test the wits of a lone bounty hunter… and the dungeons of Chateau Machecoul, where an aging knight comes face-to-face with a horror unlike anything he's ever known.
Since the end of the print version of Black Gate, we've been selling the last of our back issues at ridiculously low prices. BG 14 and 15 were cover priced at $15.95 and $18.85 each, but now you can get any two two issues for just $15 — plus $5 for each additional issue after that. That includes our rare first issue. Get our first three issues for just $20!
Stock is running very low on most of our early issues, however, and we sold our last copy of BG 4 today. Back issues of Black Gate contain original short stories and novellas from Michael Moorcock, Charles de Lint, James Enge, Cory Doctorow, Devon Monk, Harry Connolly, Martha Wells, Howard Andrew Jones, Myke Cole, and many others.
Get all the details on our back issue sale here.