The Top 50 Black Gate Posts in April
The Top 50 Black Gate Posts in April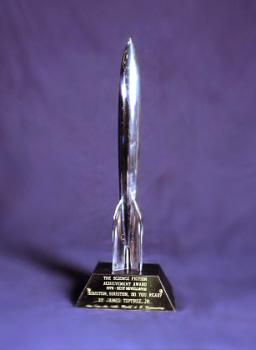 Looking over our traffic stats for last month, I want to give a shout-out to M Harold Page, who managed to heroically crack the Top 10 without once mentioning the Hugo Awards or Rabid Puppies. Well done, Mr. Page!
He was the only one to accomplish that extraordinary feat, however. Every other article in the Top 10 for April (and more than a few in the Top 25) directly addressed the ongoing Hugo Awards controversy, which began on April 4th when Worldcon announced the nominees for the 2015 Hugo Awards — a group which usually represents the finest science fiction and fantasy of the year, but this year was largely dictated by a single individual, Vox Day (Theo Beale), and his Rabid Puppy supporters, who crammed the slate with 11 nominees from Theo's tiny publishing house, Castalia House, and nominated Vox Day personally for two Hugo Awards.
Not coincidentally, Black Gate received the first Hugo nomination in our history, and one of our bloggers, Matthew David Surridge, was nominated for Best Fan Writer, both as a direct result of being included on the Rabid Puppy slate. We declined those nominations, for reasons that I think should be fairly obvious.
The most popular article on the BG blog last month — indeed, one of the most popular posts in our history — was Matthew's "A Detailed Explanation," in which he analyzed the extraordinary events around this year's Hugo nominations, and enumerated the reasons why he declined science fiction's highest honor. It the few weeks since it has been posted, it has been read over 50,000 times.
The second most popular article in April was our formal notification that Black Gate had withdrawn from Hugo consideration, which was read over 25,000 times.
Our original April 5th post on the Hugo nomination, "Black Gate Nominated for a Hugo Award in a Terrible Ballot," was the third most popular piece, followed by our analysis, "Sad Puppies and Super Puppies: The 2015 Hugo Train Wreck."
Rounding out the Top 5 was Scott Taylor's Pro-Puppy piece, "Art of the Genre: The Art of Sad Puppies."
The complete list of Top Articles for April follows. Below that, I've also broken out the most popular blog categories for the month.
The complete Top 50 Black Gate posts in April were:
The top categories last month were:
The Top 5o Black Gate blog posts in March are here, and you can see all 119 posts we made in the month of April here.