New Treasures: Dreams of Shreds and Tatters by Amanda Downum
New Treasures: Dreams of Shreds and Tatters by Amanda Downum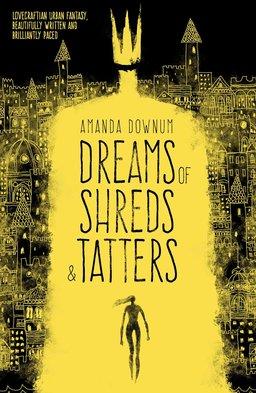 Amanda Downum is the author of the three-volume Necromancer Chronicles from Orbit Books. Her latest book, described as a "Lovecraftian urban fantasy," looks very intriguing indeed. It goes on sale in paperback next week from Solaris.
When Liz Drake's best friend vanishes, nothing can stop her nightmares. Driven by the certainty he needs her help, she crosses a continent to search for him.

She finds Blake comatose in a Vancouver hospital, victim of a mysterious accident that claimed his lover's life — in her dreams he drowns. Blake's new circle of artists and mystics draws her in, but all of them are lying or keeping dangerous secrets. Soon nightmare creatures stalk the waking city, and Liz can't fight a dream from the daylight world: to rescue Blake she must brave the darkest depths of the dreamlands. Even the attempt could kill her, or leave her mind trapped or broken.

And if she succeeds, she must face the monstrous Yellow King, whose slave Blake is on the verge of becoming forever.
Dreams of Shreds and Tatters will be published by Solaris on May 12, 2015. It is 256 pages, priced at $9.99 in paperback and $6.99 for the digital edition.
See all of our recent New Treasures posts here.