March 2015 Lightspeed Magazine Now on Sale
March 2015 Lightspeed Magazine Now on Sale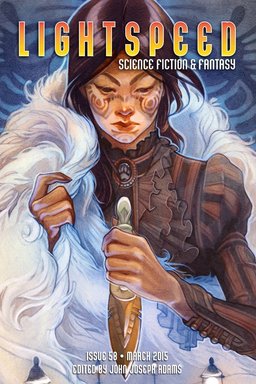 As promised in my fantasy magazine survey this morning, we kick off our coverage of John Joseph Adams' excellent online magazine Lightspeed with #58, the March 2015 issue.
Lightspeed publishes both fantasy and SF, both new fiction and reprints. Among other stories, the March issue contains "A Face of Black Iron" by Matthew Hughes, the tenth standalone installment in his long-running Kaslo Chronicles, all of which are available online. Here's the tantalizing blurb:
An ancient evil, lurking in another dimension through all the aeons since magic last ruled the universe, is striking out at Erm Kaslo, former hardboiled confidential operative (op) turned wizard's henchman, and his employer, the proto-thaumaturge Diomedo Obron. Now the two, along with the mysterious Archon Filidor of Old Earth, must re-enter the Seventh Plane, discover what awaits them there, and try to destroy it before it destroys them.
You can read all ten stories in the series at the Lightspeed website.
The complete contents of the March issue are:
Fantasy
"A Face of Black Iron" by Matthew Hughes
"Documentary" by Vajra Chandrasekera — available March 24
"The Way Home" by Linda Nagata (from Operation Arcana)
"The Good Son" by Naomi Kritzer (from Jim Baen's Universe, February 2009)
Science Fiction
"Surfacing" by Marissa Lingen
"Hot Rods" by Cat Sparks
"The Brains of Rats" by Michael Blumlein (from Interzone #16, Summer 1986)
"The New Atlantis" by Ursula K. LeGuin (from The New Atlantis and Other Novellas of Science Fiction, 1975, edited by Robert Silverberg) — available March 24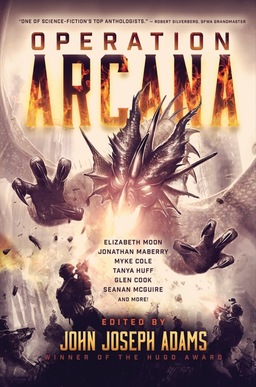 Readers of the eBook version also get Vylar Kaftan's Nebula-award winning novella "The Weight of the Sunrise" (originally published in the February 2013 issue of Asimov's Science Fiction) and two novel excerpts: from Genevieve Valentine's Persona and Daryl Gregory's Harrison Squared (both of which we covered in our March New Releases).
I really appreciate the attention paid to classic short SF in the reprint section of Lightspeed. The reprints this issue include one World Fantasy Award nominee ("The Brains of Rats"), a nominee for both the Hugo and Nebula awards ("The New Atlantis"), and a Nebula winner ("The Weight of the Sunrise").
The non-fiction includes author and artist spotlights, a feature interview with Patrick Rothfuss, and reviews.
In his editorial, John Joseph Adams reports on the astonishing success of his latest crowdfunding initiative for Queers Destroy Science Fiction!, as well as award news, and his newest anthologies, Operation Arcana and Wastelands 2.
Man, Adams is one busy guy. I get tired just reading about all his accomplishments each month.
Lightspeed is edited by John Joseph Adams. Most of the content is available free online; individual issues are available in multiple digital formats for $3.99. 6-month subscriptions are just $17.94 ($6 off the cover price), or $35.88 for 12 months ($12 off the cover price). Purchase copies and sample free content at the website.
We last covered Lightspeed with Issue 49, June 2014, the now-famous Women Destroy Science Fiction! issue.
See all of our recent magazine coverage here.