New Treasures: The Thorn of Dentonhill by Marshall Ryan Maresca
New Treasures: The Thorn of Dentonhill by Marshall Ryan Maresca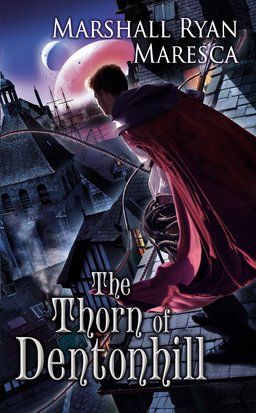 I don't know much about this Marshall Ryan Maresca fellow. His short fiction has appeared in Rick Klaw's anthology Rayguns Over Texas, and Hint Fiction: An Anthology of Stories in 25 Words or Fewer.
But his debut novel sounds like a lot of fun. The Thorn of Dentonhill follows the adventures of Veranix Calbert, diligent college student by day, and crime-fighting vigilante by night. When Calbert intercepts two powerful magical artifacts owned by a local drug lord, he suddenly becomes a major player in the nighttime struggle for control of Maradaine. But he also becomes a major target…
Veranix Calbert leads a double life. By day, he's a struggling magic student at the University of Maradaine. At night, he spoils the drug trade of Willem Fenmere, crime boss of Dentonhill and murderer of Veranix's father. He's determined to shut Fenmere down.

With that goal in mind, Veranix disrupts the delivery of two magical artifacts meant for Fenmere's clients, the mages of the Blue Hand Circle. Using these power-filled objects in his fight, he quickly becomes a real thorn in Fenmere's side.

So much so that soon not only Fenmere, but powerful mages, assassins, and street gangs all want a piece of "The Thorn." And with professors and prefects on the verge of discovering his secrets, Veranix's double life might just fall apart. Unless, of course, Fenmere puts an end to it first.
This is the first novel set in the fantasy city of Maradaine, but it won't be the last. DAW has Maresca's A Murder of Mages: A Novel of the Maradaine Constabulary, the first novel in a new series, on the schedule for July 7, 2015.
The Thorn of Dentonhill was published on February 3, 2015 by DAW Books. It is 400 pages, priced at $7.99 in paperback ad $6.99 for the digital edition. The cover is by Paul Young.