Leonard Nimoy, March 26, 1931 — February 27, 2015
Leonard Nimoy, March 26, 1931 — February 27, 2015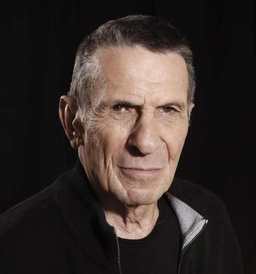 Leonard Nimoy, the gifted actor who breathed life into the emotionless Vulcan Spock — and in the process created one of the most famous and enduring TV characters of all time — died today in Bel Air, California.
Nimoy was born in Boston in 1931. His first major role was at the age of 21, when he was cast in the title role of the film Kid Monk Baroni (1952), followed by more than 50 small parts in TV shows and B movies, including an Army sergeant in Them! (1954) and a professor in The Brain Eaters (1958). He was a familiar face in westerns throughout the early sixties, appearing in Bonanza (1960), The Rebel (1960), Two Faces West (1961), Rawhide (1961), Gunsmoke (1962), and on NBC's Wagon Train four times. He starred alongside DeForest Kelley (the future Dr. McKoy) in The Virginian (1963), and with William Shatner in an episode of The Man from U.N.C.L.E (1964).
Nimoy was the only actor to appear in every episode of the original Star Trek series, which ran from 1966-69. He received three Emmy Award nominations for playing Spock, and TV Guide named him one of the 50 greatest TV characters in 2009. The role both haunted him and enriched for the rest of his life — which he famously addressed in two autobiographies, I Am Not Spock (1975) and I Am Spock (1995). After Star Trek ended Nimoy found regular work on the small screen in Mission: Impossible for two seasons, the TV documentary In Search of… , and more recently in Fringe. He also appeared in eight feature-length Star Trek films, including the recent reboots directed by J.J. Abrams. He directed two, Star Trek III: Search for Spock and Star Trek IV: The Voyage Home.
Star Trek was one of the first science fiction shows to be taken seriously as adult entertainment, and Leonard Nimoy was a huge part of that success. In his near-perfect portrayal of a hero in flawless control of his emotions, Nimoy connected with his audience — and an entire generation of young SF fans — in a way that very few actors, living or dead, have succeeded in doing. Leonard Nimoy died today of chronic obstructive pulmonary disease, at the age of 83.