New Treasures: The Emerald Spire Superdungeon
New Treasures: The Emerald Spire Superdungeon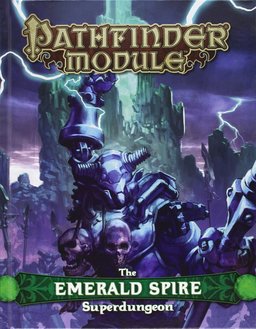 I've been playing AD&D with my kids and their friend Will a few days a month (yes, that's first edition Advanced Dungeons and Dragons. It's the only version I know how to play. Plus, used copies of the rules are still cheap.)
As I mentioned in my 2013 article, I've been gradually running them through Gygax's classic adventure modules, and setting them on the Outdoor Survival map, just as Gygax used to do. Right now we're in the middle of G2: The Glacial Rift of the Frost Giant Jarl, which is just as much fun as I remember it.
I mention this because they'll soon be done with Gygax's Against the Giants adventure modules, and I've been on the hunt for another epic adventure to involve them in. These days it's superdungeons that get all the good press, and I can understand why. Nothing gets players excited like a truly epic adventure they can sink their teeth into.
I've been extremely impressed with the Pathfinder adventures I've purchased in the past — including the massive 420-page Rise of the Runelords, a gargantuan hardcover collection of the first six Adventure Path modules — so when I heard Paizo was releasing a standalone supermodule, I thought it would be worth checking out.
The Emerald Spire Superdungeon (yes, Superdungeon is part of the actual title — how cool is that?) was released last summer, and it's as ambitious and as gigantic as I could have hoped. The dungeon spans a whopping 16 levels, designed by superstars like Ed Greenwood, Frank Mentzer, Michael Stackpole, Lisa Stevens, Sean K. Reynolds, and many others.
The dungeon is designed to take players from level 1 to level 13, with challenges that start with goblins and deadly traps, quickly escalating to the clockwork soldiers of a lost empire, and a forgotten master of creation. The book features seven new monsters, details on the nearby settlement of Fort Inevitable, and the history of the Spire and the surrounding territory (which also features prominently in the new Pathfinder Online massively multiplayer online game).
Here's the complete description from the back of the book.
Secrets None Will Survive!

For ages untold, a gemstone monolith has pierced the heart of the Echo Wood. Now, as civilization intrudes upon this enigmatic splinter, a strange life once again stirs in the depths — one with ties to undying evils and a might beyond time itself. The promise of wealth and power calls to glory-seekers from across the Inner Sea region, tempting them into a labyrinth of monster-haunted vaults, defiled tombs, arcane laboratories, and worse, as they seek to unveil the secrets locked below the legendary Emerald Spire.

Pathfinder Module: The Emerald Spire Superdungeon is the largest adventure ever set in the world of the Pathfinder Roleplaying Game. Designed for characters of a wide range of levels, this megadungeon opens with challenges appropriate for 1st-level characters and can carry parties to 13th level or higher. Within this deadly super-adventure, you'll find:

Lethal dungeon levels crafted by the creators of the Pathfinder Roleplaying Game and a host of fantasy gaming's greatest authors and designers.
A gazetteer of Fort Inevitable, a bastion of merciless order near the Emerald Spire serving as a base for exploration or a launchpad for more adventures.
Insights into the region and plots taking central stage in the upcoming Pathfinder Online massively multiplayer online RPG.
A bestiary of the Emerald Spire's myriad monstrous menaces and inscrutable inhabitants.
Dozens of new treasures, maps, side-plots, and more!

The Emerald Spire Superdungeon is intended for use with the Pathfinder Roleplaying Game and the Pathfinder campaign setting, but can be used in any fantasy game setting.
Typical for Paizo, The Emerald Spire Superdungeon has gorgeous production values, with top notch art, design, and color throughout. The book is cleanly laid out, and info is easy to find.
My curiosity got the best of me, and I bought a copy last week. I won't know how well it stands up as a functional adventure until I try it out on my young gaming group. When I do, I'll report back here with more detail.
The Emerald Spire Superdungeon was published by Paizo Publishing on July 15, 2014. It is 160 pages in full color, priced at $34.99 in hardcover. The cover is by Jesper Ejsing. Get more details at the website.