Dave Duncan's The Great Game
Dave Duncan's The Great Game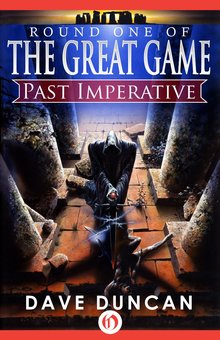 Connor Gormley wrote a post not long ago in which he discussed the seeming sameness of the current state of Fantasy. That the genre which should be most imaginative showed a singular lack of imagination, or flexibility might be a better word, in its choice of settings and characters. The comments give you a pretty good idea of how people agreed or disagreed with his thesis, and the whole post is well worth looking at. I think what it did for a lot of people, however, is remind them of books they've read that aren't cloyed down with the sameness of things.
In my case, I was reminded specifically of Dave Duncan's work. I've mentioned his Alchemist Novels in discussing fantasy mysteries, and one day I'd like discuss the brilliant West of January in more detail, but at the moment I want to introduce you to the trilogy The Great Game, made up of Past Imperative, Present Tense, and Future Indefinite.
At first glance it seems we're being dealt a typical stranger-in-a-strange land trope, but as is so often the case with Duncan, the first glance is all you get for free. I think it's safe to say that whatever you think Duncan's up to, it's very seldom what's going on.
Part Imperative begin with two apparently unconnected storylines, or rather, we assume they are connected – not being entirely new to this game ourselves – but we aren't shown how until much farther into the narrative than we'd expect. An epigraph does give us a broad hint, but honestly, it's very easy to overlook. I have a theory that fewer than half of all readers actually read epigraphs, even the ones at the beginning of chapters, but that's neither here nor there – which, come to think of it, pretty much describes the position of Duncan's characters.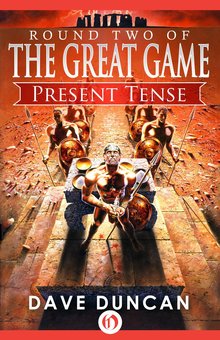 The first storyline, the "our world" story line, is set in the England, and later the Europe, of the first world war. Here we're introduced to Edward Exeter, an 18-year old fresh out of his prep school, who has been found unconscious and severely injured in a locked room which also contains the corpse of his murdered best friend.
The second story line is set in the other world of the Vales, a series of small, connected countries (not unlike central Europe) with a very complex religious set up, not the least of which is that prayers are actually answered. This is a concept very familiar to Eleal Singer, a 12-year old crippled orphan who travels with an acting troop. She's hoping for a miracle at a festival that bears a resemblance to the Olympics of ancient Greece.
Aside; I'd like to take a moment and point out that despite the ages of the protagonists, these are not YA novels. That's a very commonly made mistake.
Edward is rescued from the hospital – and the police – by representatives of the Service, who believe he's an important element in a prophecy that affects both worlds. Others, known as the Chamber, are trying to disrupt the prophecy, and Edward learns that they are the ones who killed his friend, and, incidentally, started the war in Europe. Edward, like any young Englishman of the time, wants to join up and fight, but ends up being transported to Eleal's world instead. And the prophecy begins to unfold.
As befits a story told over three volumes, the plot develops slowly, giving us plenty of time to familiarize ourselves with characters, settings and issues. Past Imperative serves as the introduction, but even here we learn slowly, discovering things as Edward does. The gods and charismatic characters of the Vales, for example, aren't really gods, but people from our world who have gathered enough mana to allow them to act as gods – which begs the question: who, or what, are the gods and charismatic persons in our world?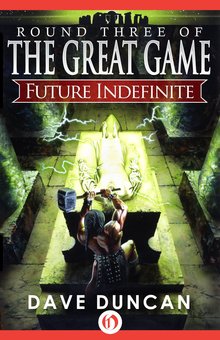 What makes The Great Game really unusual, however, is that both depicted worlds are, in their way, imaginary. Duncan isn't old enough to remember 1914 himself, though he is old enough to have been raised by people who did, and imaginative enough to understand at a fundamental level how those people thought, and what motivated them. Edward and his countrymen don't act like 21st-century people transported to other worlds, they act like people who grew up at the end of the 19th century – or like people who have been alive for centuries, but not past 1914. To give us not only a story set in that time period, but set in another world from the point of view of characters living in that time period is an incredibly difficult feat of imagination.
To make us care about those people and their difficulties is something rather more. Give them a try, and see for yourself.
One last thing. Even as recently as 1995 it was rare for genre writers to use a WWI or WWII setting. In fact, in other contexts – historical romances or mysteries, for example – the early 20th-century wasn't even considered "historical." Now that it's "last century" that's changed, and I think we may start seeing that period used more and more.
---
Violette Malan is the author of the Dhulyn and Parno series of sword and sorcery adventures, as well as the Mirror Lands series of primary world fantasies. As VM Escalada, she writes the soon-to-be released Halls of Law series. Visit her website: www.violettemalan.com