Mysteriouser, and Mysteriouser
Mysteriouser, and Mysteriouser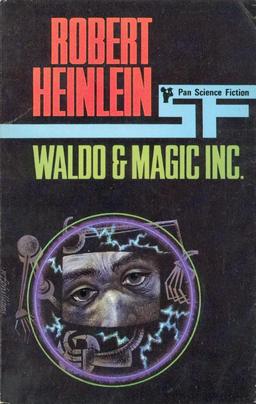 The idea of genre in literature is relatively recent, if you take as your time span the history of the written word. Why, I remember a time when there were only two genres, Poetry and Prose. Or, as we call them nowadays, Fiction and Non-fiction. Things have gotten more complicated since Sir Philip Sydney wrote "A Defense of Poetry," however, as I'm sure a glance over any of our own bookshelves would tell us.
Last week, in discussing my serial-killer fantasy, Path of the Sun, I started talking about cross-genre writing. I was writing a high fantasy crime novel, but most examples of the crime/fantasy cross are urban fantasies, set in an alternate reality.
The first of these to cross my path was Robert Heinlein's "Magic Inc" (1940). Technically, it's an amateur sleuth mystery – the main character isn't a professional detective of any kind – Archie Fraser lives in a world where magic is a routine service you rent or purchase, like the expertise of a plumber or a musician. When he's threatened by the equivalent of the mob, asking him to pay "insurance" for his business and threatening him with magical reprisals, he finds an unusual ally in the shape of a very powerful, and very old, witch.
In 1987/88, Glen Cook published the three novels that make up the Garrett Files: Sweet Silver Blues, Bitter Gold Hearts, and Cold Copper Tears. (Fans of John D. MacDonald's Travis McGee books will recognize MacDonald's method of keeping his books straight by using a different colour in each title.)
Cook's Garrett is a human private investigator with supernatural allies, but he sets the stage for the more recent Dresden Files, now in, I think, its fourteenth or fifteen volume. Jim Butcher's Harry Dresden is himself a magician, part Sam Spade and part Merlin, living in an alternate version of Chicago.
All of these, even "Magic Inc.," tend toward the "hard-boiled" subgenre of crime fiction, the first person narrator, the mean city streets, the lone protagonist setting out, sometimes with the help of friends, to solve a crime. The level of violence and the sexual content skews higher in a hard-boiled mystery, even though the standards of the day kept the earlier ones pretty tame.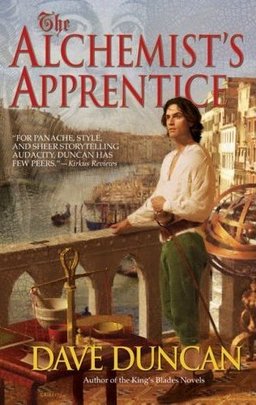 As well as simple alternate realities, there are a couple of excellent examples of alternate history.
Though relatively recent, I'd like to begin with the three novels of Dave Duncan's Alchemist Series, set in the time of the Venice of the Doges – think around the time the Inquisition was coming for Galileo. The books feature the alchemist and philosopher Nostrodamus, and his young apprentice and bodyguard, Alfeo Zeno.
Not only do the two have to deal with the extremely complex social and class structure of the Venetian Republic, but they have to move under the radar of the Inquisition – what they do, while socially acceptable, is very illegal. They solve crimes, particularly murder, by means of magic and logical deduction, but they can't always let people know exactly how they came upon their information.
You don't need to know this to enjoy them, but the books in the Alchemist Series are an homage to Rex Stout's Nero Wolfe and Archie Goodwin novels.
Nor do you need to know just what classic crime stories are being celebrated in Randall Garrett's Lord Darcy Mysteries, which first appeared in the mid 1960's. In Garrett's world, Richard the Lionheart didn't die an early death, came home to rule England, and founded the Angevin Empire of Plantagenet kings. Magic and sorcery became recognized sciences, and effectively took the place of modern technology. The series begins with Darcy as the Chief Investigator for the royal Duchy of Normandy, solving crimes with the help of the Chief Forensic Sorcerer, Master Sean O'Lochlainn.
It's pretty clear pretty quickly that Darcy is a version of Sherlock Holmes, with Master Sean as Dr. Watson. But, Garrett takes things a step further: every story from "The Eyes Have It" in 1964 to "The Napoli Express" in 1979 is an homage to a well-known example of crime fiction, as the titles alone can tell you. And in the novels, we have yet another nod toward Rex Stout with Too Many Magicians. Stout often used the "Too Many" phrase in his titles, but his Nero Wolfe and Archie Goodwin are brought to life by Garrett as the Lord Marquis of London, and his assistant, Lord Bontriomphe.
There's no way I could write about the fantasy/crime mix without touching on the subject of vampire detectives. Laurel Hamilton's Anita Blake books are probably the best known, and the longest running as a series.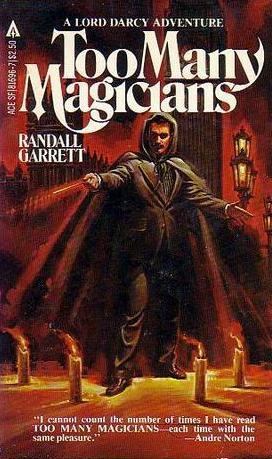 Most people don't think about them in this way, but Charlaine Harris' Sookie Stackhouse Novels are also vampire detective fiction, of the "amateur detective" sort. I know it's hard to see Sookie as a kind of modern Miss Marple, but they do share the same genes. One of the most interesting things about the novels is that they're among the only amateur detective series that shows the protagonist trying to live their ordinary life (such as it is when vampires have come out of the coffin and joined regular society). People really do have to get up and go to work, even when someone close to them has been murdered. It's an unusual touch of realism, when you come to think of it.
I give all respect to Harris and Hamilton, but my favourite vampire detective novels are Tanya Huff's Blood Books, featuring Vicki Nelson and Henry Fitzroy. Vicki retired early from what was turning into a stellar career with the police due to the onset of night blindness. She sets up as a private investigator, and on her first case, meets Henry, late the Duke of Richmond, bastard son of Henry VIII, who died mysteriously at the age of 19 – whereabouts of grave, unknown. The fact that the Duke of Richmond actually existed, and what Huff says about him matches known facts, allows the Blood Books to slip into alternate history as well.
Huff also goes a step further by making the vampire/horror connection clear. Each of the Blood Books has Vicki and Henry dealing with a horror trope – a demon, a mummy, a re-animated corpse – you get the picture.
What about crime and SF? Well, I've got to leave something for next week.
---
Violette Malan is the author of the Dhulyn and Parno series of sword and sorcery adventures, as well as the Mirror Lands series of primary world fantasies. As VM Escalada, she writes the soon-to-be released Halls of Law series. Visit her website www.violettemalan.com.