Check Out The Goon in For Want of Whiskey and Blood
Check Out The Goon in For Want of Whiskey and Blood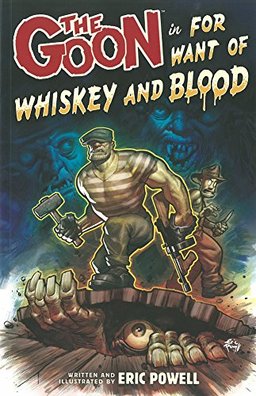 Eric Powell's The Goon is one of the most original — not to mention funniest — comics on the market.
When I was still visiting comic shops regularly it was always on my pull list, right alongside Courtney Crumrin and Atomic Robo. The Goon is the story of a none-too-swift hired muscle man (named only "the Goon") who's left high and dry when the gangster he works for dies suddenly. With nothing left to lose, the Goon simply continues the racket set up by his boss, collecting protection money from local businesses in a small American city.
When a zombie invasion threatens the inhabitants, the Goon does what he does best… provide protection. Soon most of the city falls into chaos, with the exception of those few square blocks under the Goon's protection. The constant scheming of the Zombie Priest and his various minions to get rid of the Goon and seize total control of the town provides most of the drama (and the comedy). The art is top-notch, and Powell has shown a real talent for surprisingly touching storylines.
Truth to tell, I had stopped buying The Goon trade paperbacks, because I had heard the issues were being collected in deluxe hardcover Library Editions. Not sure what happened to those plans, so now I'm back to catching up with the regularly issued trade collections. For Want of Whiskey and Blood is the 13th volume, and it collects issues #42 — #45 of the ongoing comic.
The return of the Zombie Priest, a Latin-tongued Godzilla, drunk sailors, and a Halloween visit from Billy the Kid are just a few of the special tricks and treats for Goon and company in this new collection from Eric Powell, which Comic Book Resources calls, "the product of a contentedly demented mind."
The Goon Volume 13: For Want of Whiskey and Blood was written and drawn by Eric Powell and published by Dark Horse Books on October 21, 2014. It is 128 pages in full color, priced at $16.99. Check it out.