New Treasures: The King's Deryni by Katherine Kurtz
New Treasures: The King's Deryni by Katherine Kurtz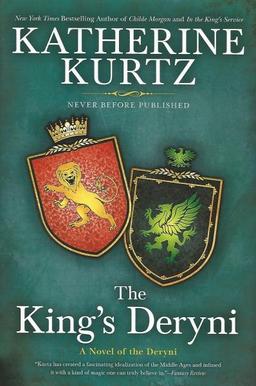 The very first Deryni novel — and Katherine Kurtz's first published novel — was Deryni Rising, which appeared as part of Lin Carter's prestigious Ballantine Adult Fantasy line in 1970. Keith West has been gradually working his way through the entire BAF line, and I found what he said about Deryni Rising very compelling.
When Lin Carter started the Ballantine Adult Fantasy line, he began by reprinting works that were obscure and/or considered classic in the field at that time, but as he wrote in the introduction to Deryni Rising, he had hoped from the very beginning to be able to publish high quality new works as well. The first original fiction he published was Deryni Rising, the first novel by Katherine Kurtz.

I think he hit the ball out of the park when he selected this one.
Read Keith's complete comments here.
Katherine Kurtz's Deryni novels were some of the most popular fantasy novels of the 20th Century. Deryni Rising has been reprinted over 10 times, and more recent volumes in the series have hit the New York Times bestseller list. The series is still being published and now consists of five trilogies, a stand-alone novel, two collections of short stories, and a pair of reference books.
But fans have been waiting for a long time for this latest installment — prior to The King's Deryni, the most recent novel, Childe Morgan, appeared over eight years ago, on December 5, 2006. The King's Deryni brings the epic Childe Morgan trilogy to a long-awaited close.
Alaric Morgan always knew his purpose in life — to stand alongside the king of Gwynedd. The old king knew that whichever of his sons succeeded to the throne would benefit from having a Deryni at his side. Alaric and the young Prince Brion Haldane were bound together by magic — a magic to be called upon when Brion was most in need.

Now eighteen, Brion has ascended to the throne and seven-year-old Alaric has come to court. Through the coming years, both will grow to manhood and come to realize their destinies. Brion will strive to solidify his power and position, seek out a bride to secure his legacy, and ultimately, when faced with an unbeatable foe, call upon Alaric to fulfill his oath.

Meanwhile, Alaric slowly learns the extent of his powers and how to use them, and will face the prejudice that many have against Deryni in its ugliest form. He will experience bittersweet first love, great personal loss, and the hard lessons one gains from both. And he will be there to unleash the full power of his Deryni magic at Brion's command.

For Alaric is -— and always will be —- the King's Deryni.
Our recent coverage of Katherine Kurtz includes Derek Kunsken's article "Old Favorites: Katherine Kurtz's Deryni."
The King's Deryni was published by Ace Books on December 2, 2014. It is 550 pages, priced at $26.95 in hardcover and $12.99 for the digital edition.
See all of our recent New Treasures articles here.