Fearie Tales Has the Best Cover Art of the Year
Fearie Tales Has the Best Cover Art of the Year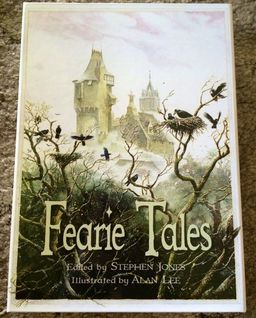 One thing I miss about the lack of a print edition of Black Gate is that I no longer shop for cover art.
I still do, sort of, by keeping an eye on the best pieces of art every year. And as we close out 2014, I think I can say that my favorite cover this year was for the deluxe limited edition of PS Publishing's Fearie Tales, painted by Alan Lee (click on the image at left for a bigger version.) What can I say? I'm a sucker for castles and crows.
Fearie Tales was edited by Stephen Jones and takes inspiration from the original versions of Grimm's Fairy Tales. Jones invited some of today's top fantasy and horror writers to create new Grimm Fairy Tales, with a decidedly darker twist. It contains retellings of Cinderella, Rapunzel, Hansel and Gretel, Rumpelstiltskin, The Robber Bridegroom, and more from Ramsey Campbell, Neil Gaiman, Tanith Lee, Garth Nix, Robert Shearman, Michael Marshall Smith, Christopher Fowler, Angela Slatter, Brian Hodge, Joanne Harris, John Ajvide Lindqvist, and many others. Check out Goth Chick's review of the US edition here.
Cover artist Alan Lee was, along with John Howe, the lead concept artist for Peter Jackson's The Lord of the Rings films. He has illustrated dozens of fantasy novels, including the covers of the 1983 Penguin edition of Mervyn Peake's Gormenghast trilogy, and several works by J.R.R. Tolkien, including the centenary edition of The Lord of the Rings (1995), a 1999 edition of The Hobbit, and The Children of Húrin (2007).
Fearie Tales was published PS Publishing in a deluxe signed traycase edition limited to 200 copies on July 1, 2014, priced at £249.00. It is also available in a trade edition (with a different cover), published by Jo Fletcher Books on September 23, 2014, priced at $24.99.